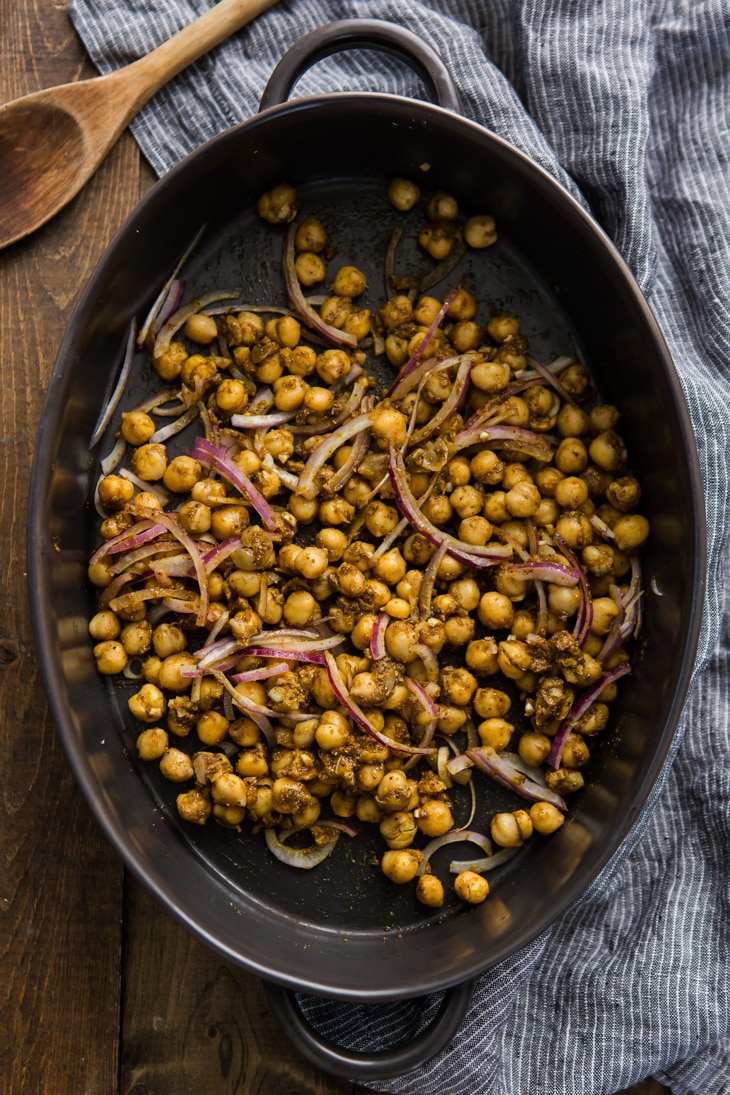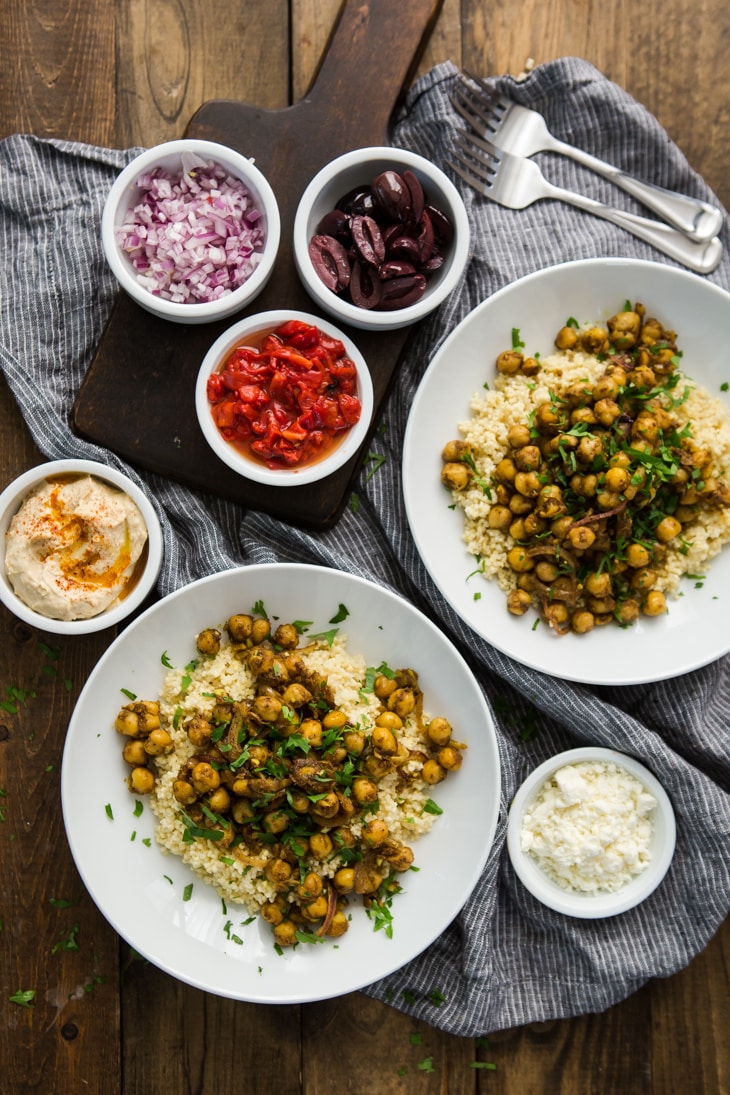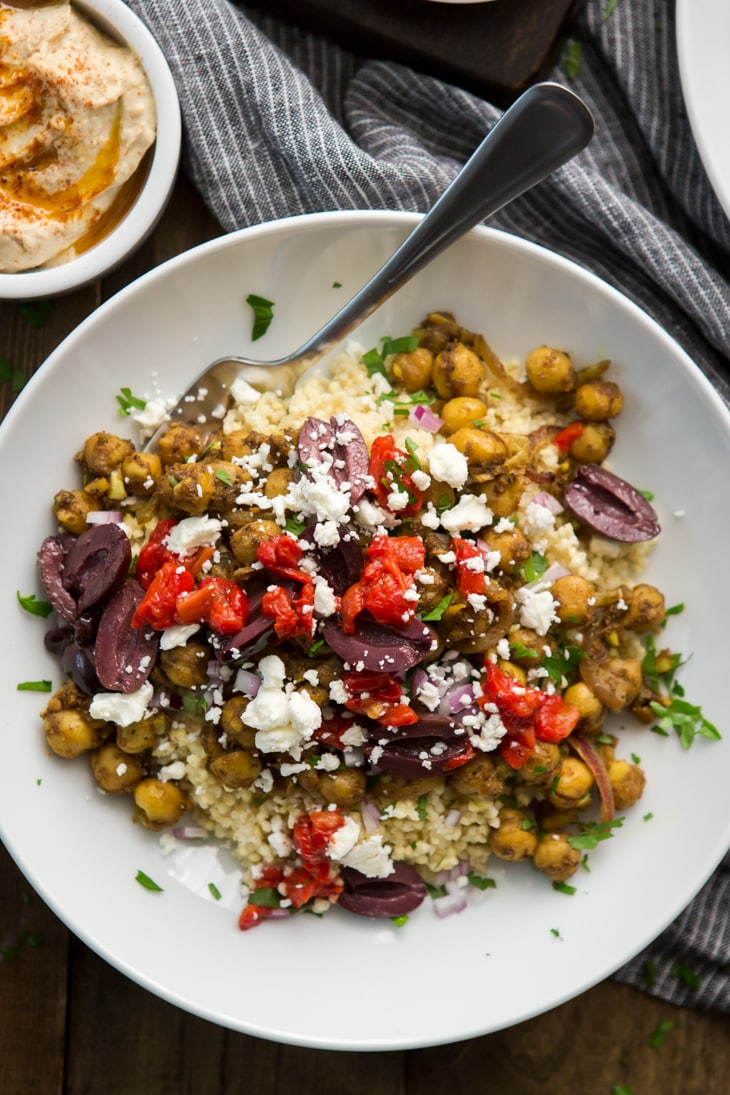 I believe one of the biggest reasons vegetarian and vegan cooking gets a bad name is because there are a ton of flavorless meals and recipes out there. I think it's easier with a good cut of meat to just add a bit of salt/pepper then call it good and while I feel the same about vegetables (or just raw, by themselves), it's not always easy to win over the meat eaters in my life (like my husband). It's easier to assume that it must be bland because it's vegetarian (not because I didn't season it right). Seasoning in cooking is everything and that is especially true in vegetarian cooking.
So with that said, your spice cabinet is your best friend (even if it's unruly with jars everywhere that may date back to the 1990's- hi mom!) It's worth thinking of this every once in awhile, doing a bit of cleaning, and stocking up on fresh spices (because you can season with older spices, but your not doing much to tackle the bland factor). I love places that have bulk bins for spices because then you can get as little (or as much) as you want which means freshness in flavor.
This chickpea shawarma recipe may seem like it takes more ingredients then it's worth but if you have a solid spice cabinet (and pantry), it comes together with ease. All of these spices are ones I keep around for every day cooking. Add in chickpeas and millet (which are also always in my cupboard) and you've got yourself a meal that's hearty and packed with flavor. You can also cater the toppings to whatever you like (leave the feta off for vegan, ditch the hummus for yogurt, etc).
On a separate spring-cleaning note, if you subscribe by email to the site (or are thinking about starting), I've created two new options to help keep your inbox clutter down. You can now subscribe to a weekly digest or even a monthly digest where all new recipes will arrive packaged in one simple email (that is nice to Outlook- problem fixed)!

Print
Chickpea Shawarma with Millet
Author:
Prep Time:

10 mins

Cook Time:

30 mins

Total Time:

40 mins

Yield:

2

large portions or

3

to

4

smaller portions

1

x
Chickpeas

3

cloves garlic, minced

1 tablespoon

ground cumin

1 tablespoon

ground coriander

1 teaspoon

sea salt

1 teaspoon

turmeric powder

1 teaspoon

allspice

½ teaspoon

ground ginger

½ teaspoon

ground black pepper
Pinch of cayenne pepper

3 tablespoons

olive oil

2 cups

chickpeas (or

1

-

15

ounce can, drained and rinsed)

⅓ cup

thinly sliced red onion

1 cup

uncooked millet

2 cups

water
Pinch of salt
Toppings
Flat leaf Parsley
Roasted Red Pepper
Hummus
Feta
Kalamata Olives
Diced Red Onions
Instructions
Preheat oven to 350˚.
In a medium bowl, combine minced garlic with spices (cumin through the cayenne pepper). Add in the olive oil and stir until well combined/paste has formed. Stir in the chickpeas and red onions, using a spatula to toss and coat. Transfer chickpeas to a roasting pan and cover with foil. Bake for 30 minutes until chickpeas are hot and onions are tender.
While chickpeas are cooking, combine millet with 2 cups water and a pinch of salt (see note). Bring to a boil, reduce to a simmer, and let cook until the majority of water as been absorbed (12 to 14 minutes). Cover, remove from heat, and let sit until chickpeas are done (the millet needs a bit of time to absorb any leftover water).
Prepare the toppings you want to use and once chickpeas are done, divide millet, cover with chickpeas, and add your favorite toppings.
Notes
*I've also used whole spices before. I usually just a touch less of the whole spices and allow them to toast a bit in a dry skillet before grinding.
*Millet can also be toasted before hand. Simply add the millet to the dry pot and over medium-low heat, cook the millet, shaking the pan often, until the millet is fragrant, 5 to 6 minutes.
*These toppings are just a suggestion- tomatoes, cucumbers, and yogurt sauce make nice additions.