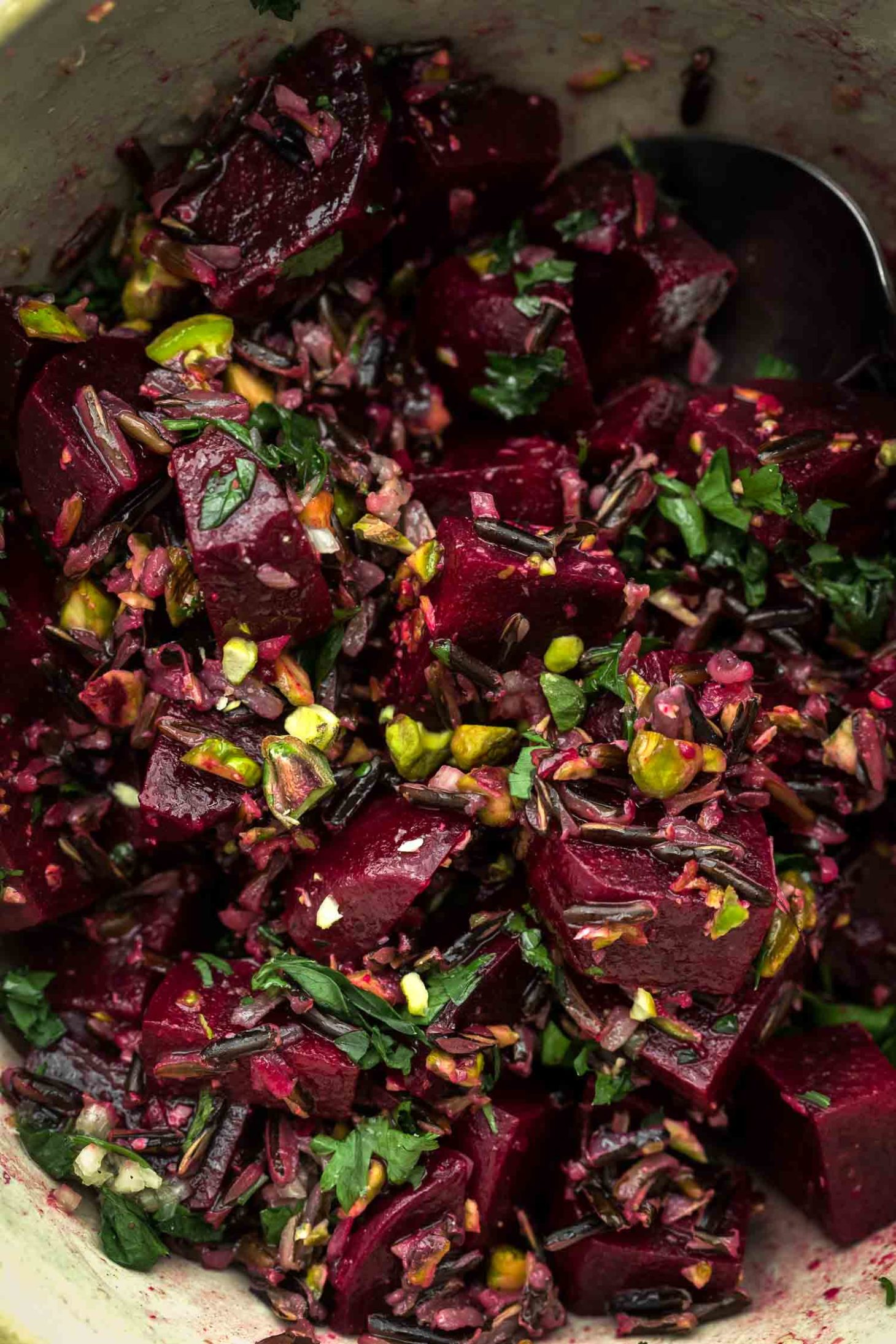 There are times I go into developing recipes where I expect failure. I expect that certain flavors won't work well together or textures won't be appealing. The reason I still try? This wild rice salad is a perfect example. The salad has some strong flavors that in theory, I thought would work well together. The resulting salad was better than even I expected. The earthiness from the beets and wild rice are brought together nicely with the pistachios. However, it's really the lemon and salt that meld everything.
In terms of the wild rice, I have soft spot for this grain. It's one of the few items that can be easily traced back in the history of the United States. It's a upper midwestern staple that is also produced in California. Just be prepared, it's not like white/brown rice. The flavor is is more pronounced which is why I love it in this salad.
Print
Beet Wild Rice Salad with Pistachios
An earthy and filling grain salad using wild rice, beets, and pistachios all brought together with my favorite lemon vinaigrette.
Prep Time:

10 minutes

Cook Time:

50 minutes

Total Time:

60 minutes

Yield:

2

servings

1

x
Category:

Salad
Ingredients
½ cup

uncooked wild rice

¼ teaspoon

salt

1

pound small red beets

1 tablespoon

lemon juice

¼ cup

pistachios (toasted)

¼ cup

minced fresh parsley

¼ cup

lemon vinaigrette
Salt (as needed)
Instructions
Rinse the wild rice thoroughly. Place in a pot along with 2 cups water. Bring to a boil, reduce to a simmer, cover, and cook until the rice is tender; 50 minutes or so until the majority of the water has been absorbed. Remove from heat and allow to rest for 5 minutes. Add salt and fluff the rice.
While the rice is cooking, trim the ends from from the beets. I like to use beets that are a little larger than a golf ball. Place in a pot of boiling water along with the lemon and cook until tender, 30 to 50 minutes (time will depend on the size of the beets). The beets should be tender enough to pierce with a knife but not fall apart. Drain and let beets cool enough to touch. Peel the beets and cut into quarters.
Combine the hot rice with beets, pistachios, and parsley. Pour the dressing over the salad and toss until everything is well combined. Taste and add more dressing and/or salt as desired.
Notes
Tips & Tricks: I found the balance of salt and lemon juice to be the make or break of this salad. I like to start out light on both and add a pinch and drizzle as needed.
This salad is also really nice with roasted beets.
Stock up: get the pantry ingredients you will need: beets, pistachios, parsley
Nutrition: See the information.
Nutrition
Calories:

452

Sugar:

18.1

Sodium:

475

Fat:

21.4

Carbohydrates:

57.8

Fiber:

10.7

Protein:

18.1
Wild Rice Salad
variations
I have to be honest, I've not deviated from the recipe as written above. It is delicious as is and I go out of my way to make. The flavors just work well together and if you take one out, the wild rice salad just isn't the same. However, you can always riff. So a few options:
Grains: Wild rice not your favorite? The flavor of the overall salad will be different but you could use brown rice, sorghum, or a quicker cooking grain like freekeh. Really any grain would work but stick with one that still have a bit of texture after cooking.
Greens: Make a more traditional salad by tossing the beets/wild rice with spinach or kale.
Cheese: I really love this salad as is but a sprinkle of feta would be nice. You could also fry halloumi to chop and add to the salad.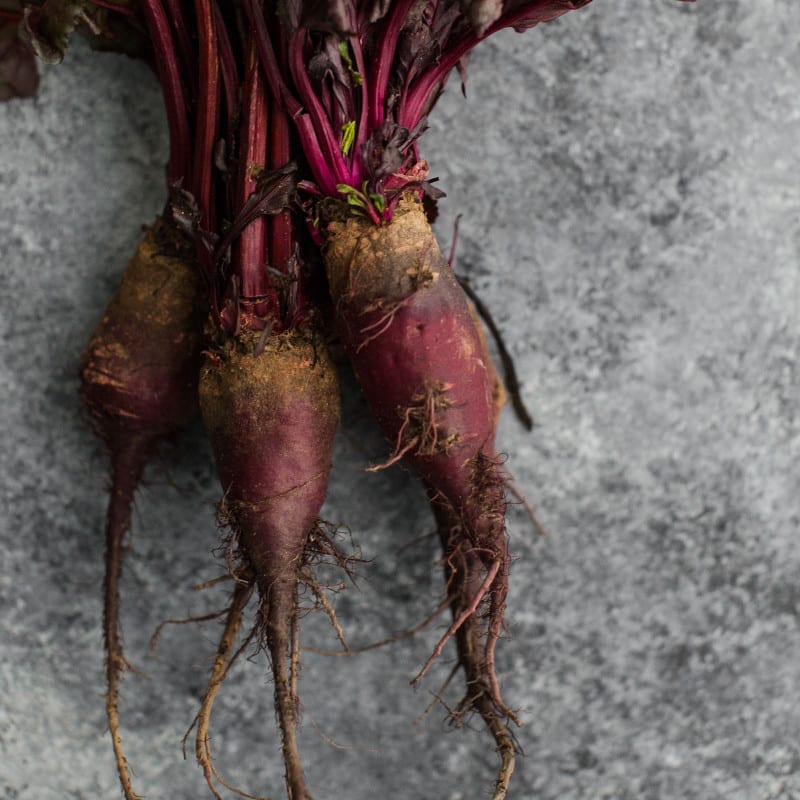 During the fall and winter months, I always have beets stowed away in my crisper. The greens make for a nice addition to stir-frys and sautés. Also, the beet roots keep for a couple of weeks and can be used in many different ways (the cupcakes are a particular favorite of mine). Look for all the different varieties as they can be used interchangeably, each adding a lovely pop of color to meals.
Cracked Spelt Risotto
Roasted Beet Pasta
Chocolate Beet Cupcakes