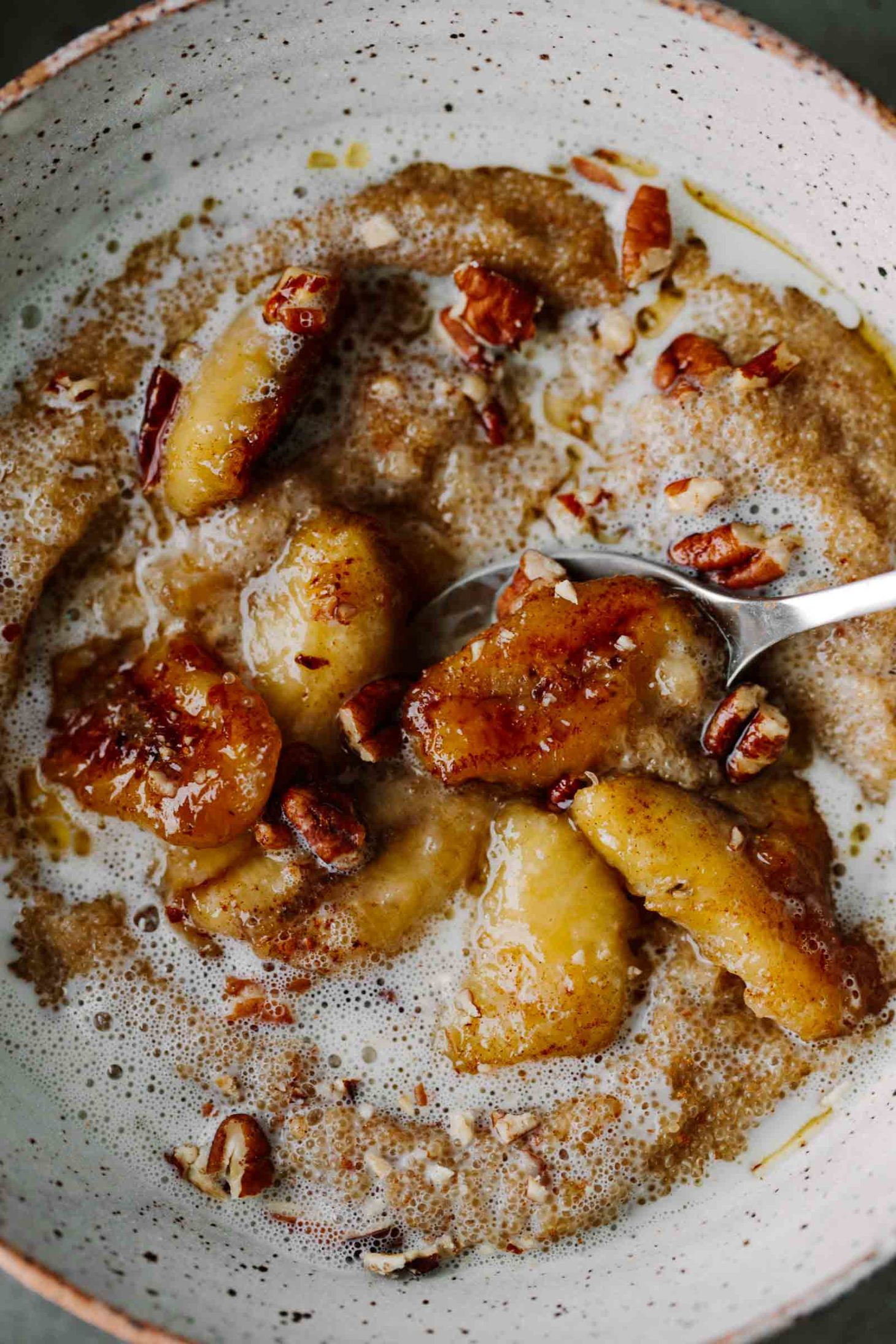 I gravitate towards the savory breakfast, even to the point of eating leftover dinner in place of waffles, pancakes, or sweet porridges. However, sometimes my sweet tooth gets the best of me. Luckily, I can make a mean bowl of breakfast porridge and amaranth is one of the ways to my sweet-breakfast heart.
Amaranth Porridge
I absolutely adore amaranth for both the grain and in floral arrangements. When growing, it's colorful and definitely and eye-catching addition. Yet, the grain, in terms of cooking, doesn't quite get the same love.
Amaranth takes a little know-how. It's similar to quinoa in that it's actually a pseudo-grain or better known as a seed. It does not, however, cook up like quinoa. Amaranth, if cooked like any other grain, becomes a bit gummy.
Amaranth has a higher level of amylopectin, a main component of starch. This component creates a slightly more gelatinous texture to the cooked grain; think sushi rice versus long-grain rice. The creamy feel of cooked amaranth lends itself well to porridges and polentas. There are ways to use amaranth in more traditional grain ways, it just takes an extra step.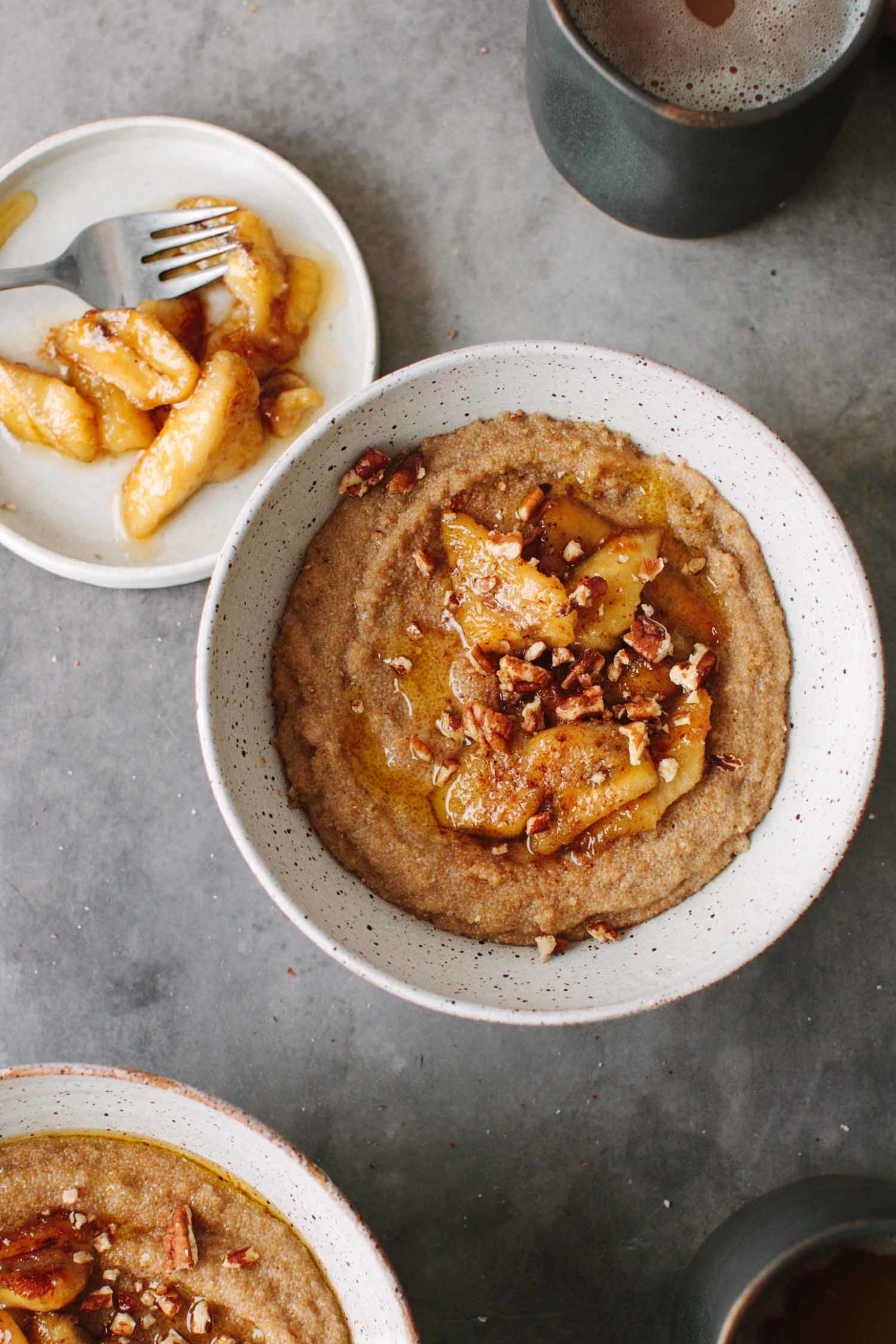 The topping
I try and stick with only fruits and vegetables I can source locally but I occasionally love a good banana dish. It also helps that we almost always have bananas around thanks to a child who had a mild obsession with them for some time.
Of course, if you wanted to stick to something you could buy at the farmers market, try peaches, apples, or pears. I like all of these options for cooking in the butter/sugar mixture. You could also just load this amaranth porridge with fresh berries and call it good.
Making it vegan
This one is easy. I actually prefer this porridge with non-dairy milk such as almond or oat. Same goes for the cream on top. As for the butter, you could use coconut oil or my friend Emma recently introduced me to Miyoko's vegan butter. It's actually really good and a solid 1:1 for dairy butter.
Print
Banana-Pecan Amaranth Porridge
A hearty, whole-grain porridge using amaranth and milk (easily vegan with non-dairy milk). Top with the bananas or try your own topping with whatever seasonal fruit you have on hand.
Author:
Prep Time:

5

Cook Time:

25

Total Time:

30 minutes

Yield:

2

filling servings

1

x
Category:

breakfast

Method:

stove-top

Cuisine:

international
Amaranth
1 cup uncooked amaranth
1 ½ cups whole or non-dairy milk 
1 ½ cups water
Pinch of Salt, if using unsalted butter
Bananas
3 tablespoons butter
2 just-ripe bananas
2 tablespoons muscovado or brown sugar
Pinch of Salt
Topping
Cinnamon for topping
Cream, for topping
¼ cup pecan pieces, toasted
Instructions
Heat a pot over medium-low heat. Add the amaranth and toast for about a minute. Any longer and you risk the amaranth starting to pop (a fun activity but not what we're going for in this recipe).

Add in the milk, water, and salt. Bring to a boil and let simmer for about 25 minutes or more, stirring occasionally. It will look like the porridge isn't thickening but it will happen quick towards the end.

While the porridge is cooking, melt the butter in a small skillet over medium-low. Cut the banana into ¼" to ½ " thick slices and place in the pan with the melted butter. Cook for a minute or so. Add in the sugar and a pinch of salt. Continue to cook until the sugar begins to caramelize the bananas, about 2 minutes or so. You want the bananas to cook just long enough to be soft but not lose their shape.

Once the porridge and bananas are done, assemble the bowls. Divide the amaranth into two bowls and top with bananas, a sprinkle of cinnamon, cream, and a sprinkle of toasted pecans.
Notes
NOTES
I like to toast my pecans in the pan before I make the bananas. Simple add to the heated pan and shake until fragrant and starting to darken slightly. Remove from the pan and return to heat for the bananas.

A little amaranth goes a long way. The serving size for amaranth is ¼ cup dry but I tend to eat a sizable breakfast.

The old recipe called for soaking and while there are schools of thought that this is a must for every grain, legume, nut, and seed. I prefer the flavor of amaranth that has been toasted (which isn't really feasible unless you soak, dry, then toast- a process I've yet to master timing for).
Keywords: amaranth porridge