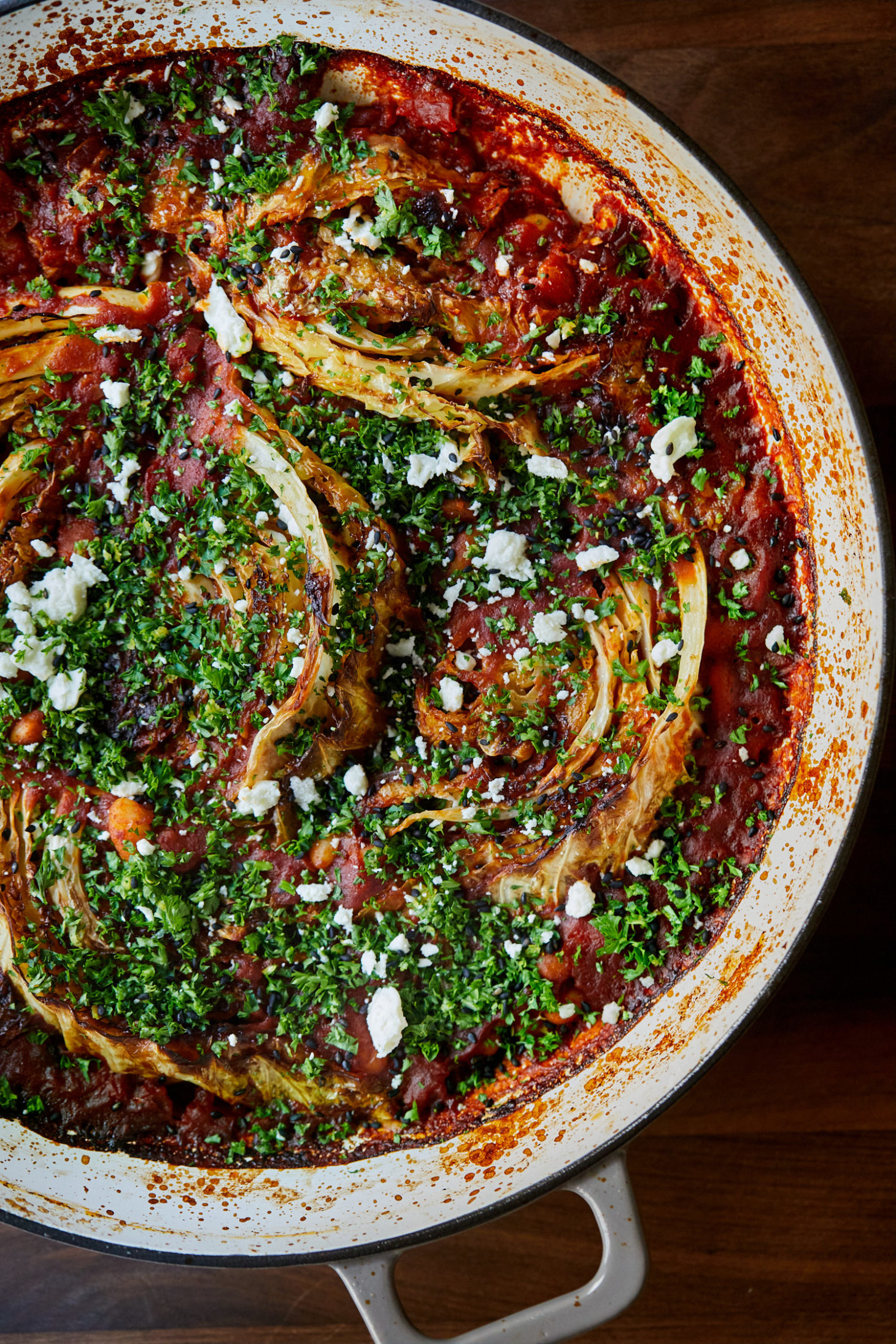 I, too, am lured by the wonders of tasty looking recipes on the internet. Different ideas or fun combinations get stuck in my brain. Usually, in the form of recipes that make me want to try something new. One of the more recent? This caramelized cabbage. Most likely because I like roasted and grilled cabbage, so really, what's not to love about the idea of caramelization?
And so, I tried it, but I can't leave well enough alone. Because currently, nearly every meal contains beans. This baked-cabbage and white beans is my rendition on the caramelized cabbage, made for a substantial lunch (thanks beans!) Also, this is delightful leftover, served on leftover grains.
Print
Baked Cabbage and White Beans
Author:
Prep Time:

15 minutes

Cook Time:

45 minutes

Total Time:

1 hour

Yield:

4

solid servings

1

x
Cabbage
½ large head savoy cabbage
4 tablespoons olive oil, divided
½ large yellow onion, minced
½ teaspoon sea salt, plus more to taste
2 large garlic cloves, minced
1 tablespoon sherry vinegar
2 tablespoons tomato paste
2 teaspoons smoked paprika
1 teaspoon ground cumin
1 cup crushed tomatoes
¾ cup water
1 cup cooked white beans, drained
Finishes
1 cup loosely packed parsley
Zest from one lemon
Feta, for topping
Instructions
Preheat oven to 350˚F. Cut the cabbage in half and cut each half into thirds (see note). Heat a large, oven-safe skillet over medium-high heat. Add 3 tablespoons of olive oil and place the cabbage in the hot skillet and sear each side of the cabbage. Transfer to a plate.

Add the remaining tablespoon of olive oil followed by the minced onions and salt. Cook until the onions are tender, about 8 to 10 minutes or so. If your onions are starting to brown, reduce the heat. Once the onions are tender, add the garlic and cook for another minute or two.

Next, stir in the sherry and scrape any bits stuck to the bottom of the pan.  Add the tomato paste, smoked paprika, cumin, and cook for a minute or two. Add in the crushed tomatoes, water, and beans. Stir and heat for a minute.

Nestle the cooked cabbage in the tomato mixture and place the skillet in the preheated oven. Cook the cabbage for about 35 to 45 minutes until the tomato mixture has thickened, and the cabbage is tender.

Mince the parsley and zest together until well combined. Sprinkle on top and sprinkle with feta before serving.
Notes
Notes
The original recipe calls for only cutting the cabbage into quarters. I didn't like the thickness of the cabbage but it's really up to you.
Also, I topped the image with black sesame seeds because I thought it would be a good addition. It didn't add much so I left it out of the recipe.