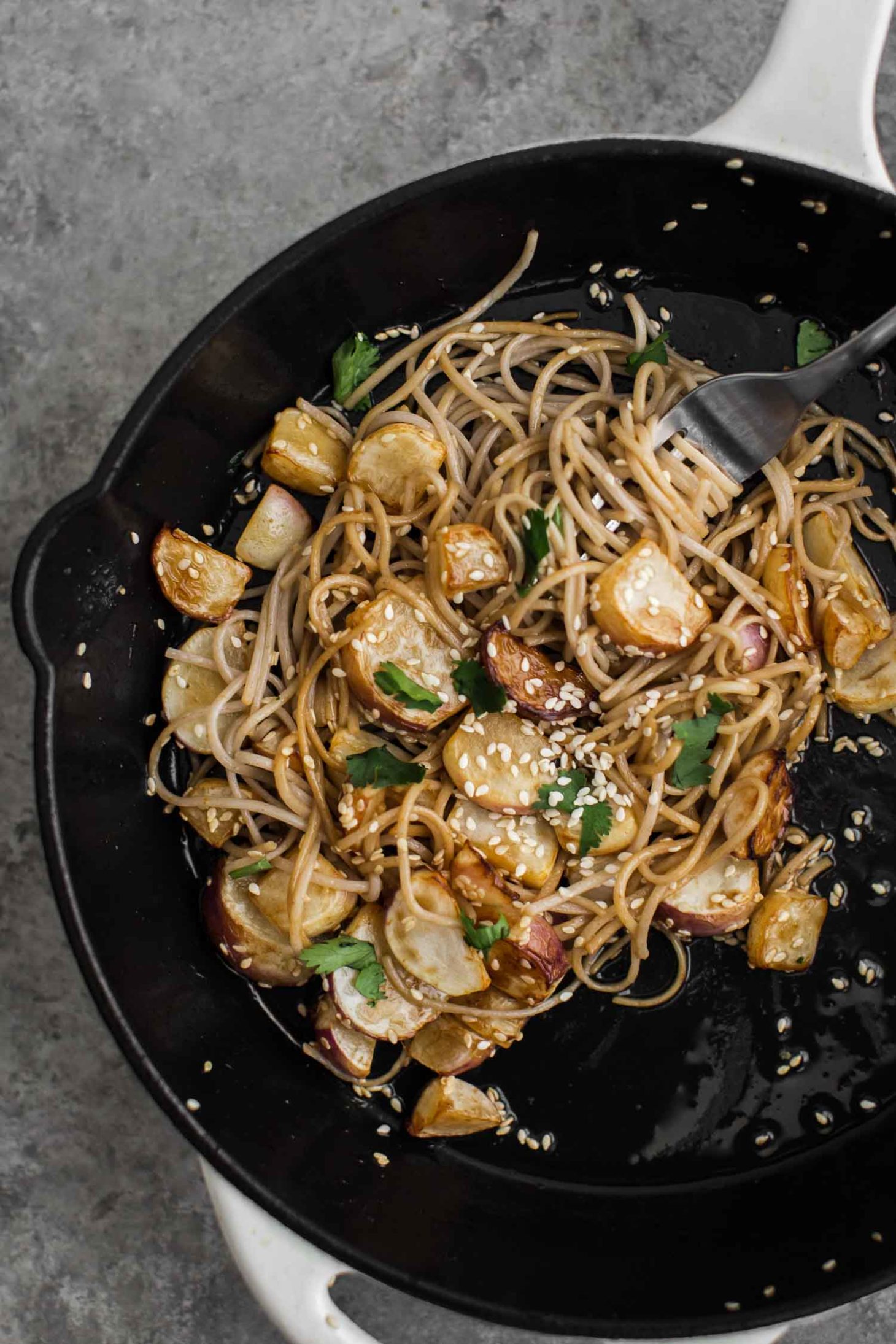 I get stuck in my ways. I eat the same type of salad dressing. I order the same item from a restaurant menu. I roast my vegetables. These aren't inherently bad but I have to remind myself there are other things to try and ways to explore. Enter these sesame turnips.
This is a fairly straight forward noodle bowl topped with my favorite turnips. Best of all, it's easy to make it gluten-free (with either 100% buckwheat noodles or your favorite vegetable noodles).
I love sesame and turnips together but I typically am roasting them. This noodle bowl is for those times you want nothing to do with turning on your oven. Pan frying creates a beautiful, golden crust that is the perfect companion for the noodles.
Sesame turnips
variations
Greens: My turnips were without their greens but if your turnips came with the greens, toss them in with the turnips towards the end of cooking. Stir until the greens are mostly wilted then add the ginger and sesame seeds.
Gluten-Free: Soba noodles are made with buckwheat flour but most times, there is wheat flour is added in as well. Look for 100% buckwheat flour soba noodles or use brown rice glass noodles (like Annie Chun's).
Garlic: I left garlic out of this version but I like to add a small minced clove with the ginger.
Print
Sesame Turnips with Soba Noodles
An easy and delicious noodle bowl that features one of my favorite underrated vegetables: turnips!
Author:
Prep Time:

15 minutes

Cook Time:

15 minutes

Total Time:

30 minutes

Yield:

1

serving

1

x
Ingredients
2 teaspoons sesame oil
1 ½ cups ½" diced purple-top turnips (see note)
1 to 2 teaspoons fresh minced ginger
1 teaspoon sesame seeds
1 tablespoon tamari or soy sauce
2 ounces soba noodles, cooked
Sesame seeds, for topping
Cilantro, for topping
Instructions
Heat a medium skillet over medium heat. Add the sesame oil followed by the turnips. Fry the turnips, stirring occasionally, until the turnips are tender and browning.
Reduce the heat and stir in the ginger and sesame seeds, cooking for a minute or two; until the ginger is fragrant and the sesame seeds are toasted.
Stir in the tamari, followed by the soba noodles. Taste and add more tamari if desired. Serve with a sprinkle of cilantro and more sesame seeds if desired.
Notes
Tips + Tricks: Cutting the turnips: I like to cut the turnips in wedges. This gives a bit more surface are on the sides- perfect for browning!
Seasoned Rice Vinegar: Beyond the ingredients listed above, I like to add splash of seasoned rice vinegar. This adds just a little boost of flavor and sweetness.
Cooking the Noodles:  I used leftover soba noodles I had on hand. I like to cook the noodles according to the package then drain, rinse, and toss with a teaspoon or so of sesame oil. This helps the noodles separate and mix with the ingredients well!
Use up leftover ingredients: soba noodles, sesame seeds, turnips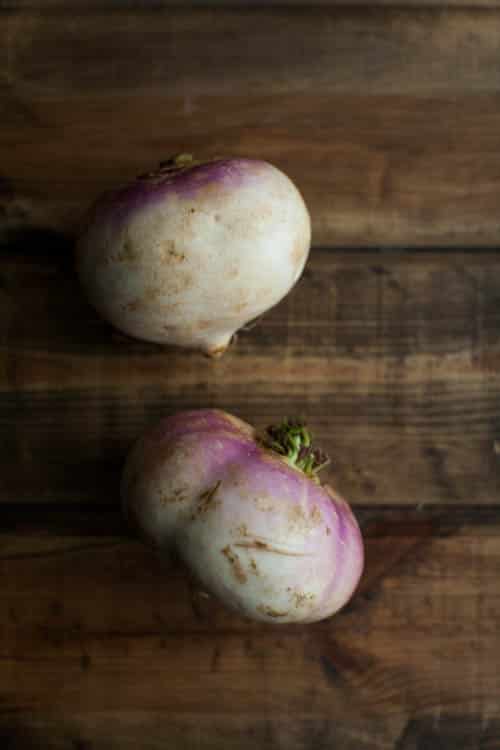 Turnips are one of the vegetables that is easy to ignore but shouldn't. They have what I find to be the perfect balance of butteriness and earthiness (compared to other roots that are all earthy flavor). They are great roasted, grilled, and can be thrown into stir fries. I think the best part of turnips, however, are the greens. They aren't over-powering and can be used as you would chard, kale, or beet greens.
Fennel and Turnips with Greens