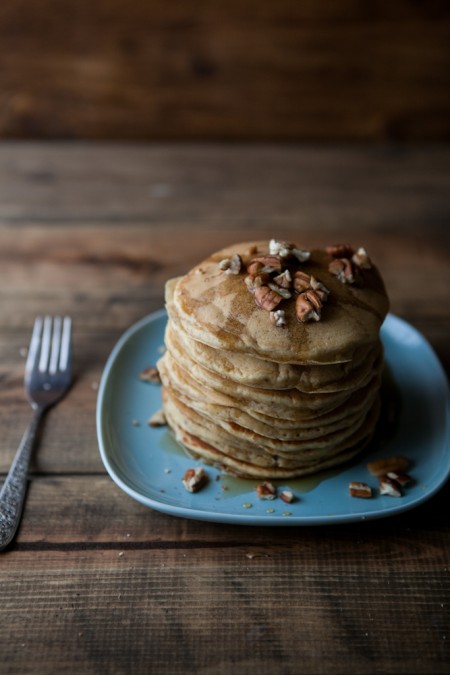 This is how my writing of these post have gone recently: I sit down, upload the photos, and then stare at the white space in between said photos.  I watch the cursor blink back and forth, taunting me because the words just aren't there. I flip over to twitter or the news for a brief interlude to my wordlessness but when I flip back to the page, the words just aren't there.
I love sharing the photos and the recipes but finding the words is becoming increasingly harder.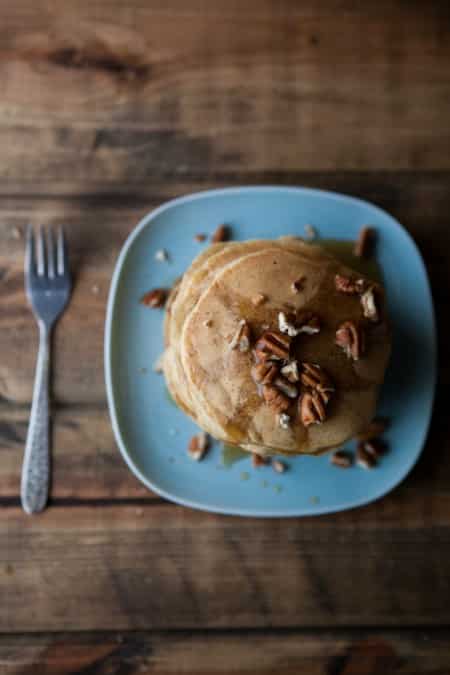 I've been practicing with words on my morning walks. I think how I would turn the golden leaves of fall and the soft light of morning in to something more, something that explores that particular moment in time, not just the leaves and the sky.  I weave stories but by the time I get home to write them down, the words have once again escaped me most likely due to my thoughts straying to something else.  This happens a lot.
Words have never been my strong suit.  I failed spelling tests in first grade, had my papers ripped apart in college (due to the fact that I hated English class in high school), and until graduate school, I didn't learn that when typing, there should only be one space after the period.  M is a wonderful writer; he wrote a letter after we got engaged that will probably forever make me cry. I sometimes wish he could teach me the ease at which he writes- it comes so naturally.
I guess this is all just asking you, my dear reader, to stick with me.  Enjoy the photos and the recipes but don't be surprised if on occasion, that's all you get.  Just know there's a girl on the other side, banging her head against the keyboard.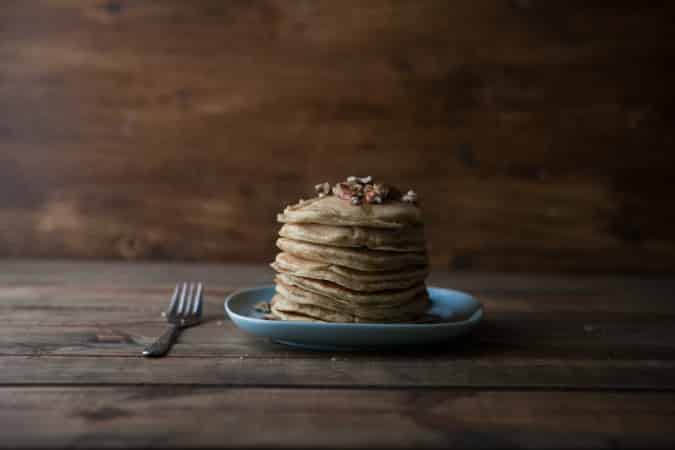 Print
Roasted Pumpkin and Pecan Pancakes
Author:
Prep Time:

5 mins

Cook Time:

10 mins

Total Time:

15 mins

Yield:

2

-3

1

x
Category:

Breakfast
Ingredients
⅓ cup

pecans

⅔ cup

whole wheat pastry flour

1 ½ teaspoons

baking powder

¼ teaspoon

salt

1 teaspoon

cinnamon

¼ teaspoon

nutmeg

¼ teaspoon

ginger

1

pie pumpkin (or

½ cup

pumpkin puree)

1

egg

2 tablespoons

walnut oil

1 tablespoon

maple syrup

½

-

¾

cup milk
Instructions
Preheat oven to 425˚.
Remove top of pumpkin. Quarter pumpkin and remove seeds, set aside. Scrape out remaining small seeds and the stings. Place each quarter face down in a baking dish and roast for 30-40 minutes or until pumpkin is tender. Remove and let cool slightly.
Once pumpkins are done, scoop out the insides and place in a food processor. Pulse until mixture is smooth. Next, place in either a cheese cloth or strainer and press out all of the liquid. Set aside.
In a food processor, pulse pecans until they resembled course flour. Combine with whole wheat pastry flour, baking powder, cinnamon, salt, nutmeg, and ginger. Set aside.
In a separate bowl, whisk together ½ cup of pumpkin puree and egg. Whisk in oil, maple syrup, and ½ cup of milk.
Combine wet mixture in to dry mixture and stir until batter is combined. Stir in more milk if consistency is not pourable.
Heat a skillet over medium heat. When skillet is hot (if you flick water onto the skillet, it should sizzle), take about ¼ cup of batter and pour onto skillet. Let cook for 1-2 minutes (until the pancakes begins to bubble slightly. Flip and let cook for another 1-2 minutes until pancake is cooked through.
Serve with butter, maple syrup, and a sprinkle of cinnamon
Notes
If pressed for time, cook pumpkin up a day or two before.