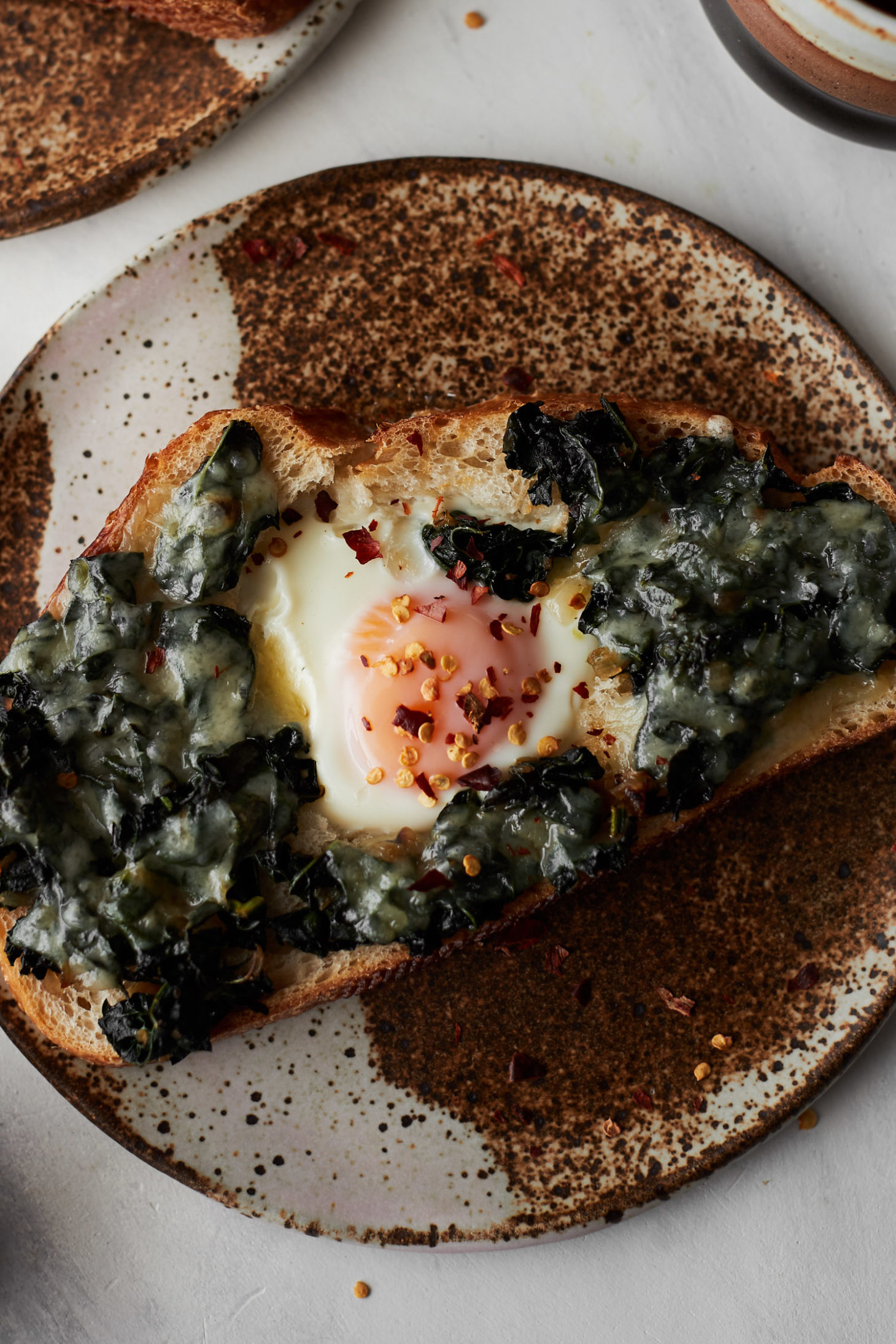 Post sponsored by Pete and Gerry's Organic Eggs. See below for more details.
Egg in a hole, the most straightforward recipe name
When it comes to breakfast, I'm a savory eggs and toast kind of person. Normally I do a simple fry with toast on the side but occasionally I crave a little more. Not only are eggs-in-holes still fairly easy, when you make them like I have, it's a great way to add vegetables or greens.
Also, as a side note, I like to save the insides of the bread and later make those into breadcrumbs for another meal. I've already been through my obsession with breadcrumbs, so I'll spare you. But if you're interested, you can read all about it here.
Greens of all kinds
As mentioned above, these eggs-in-holes are a great way to eat greens for breakfast. While I chose kale for this recipe, chard, spinach, or collards would also work. I've also been known to make a simple version with no cooked greens then add them lightly dressed fresh arugula to the top before serving.
Beyond greens, you could choose to roast tomatoes, squash, sweet potatoes, or asparagus and layer on under the cheese. The variation possibilities are endless when it comes to eggs and toast.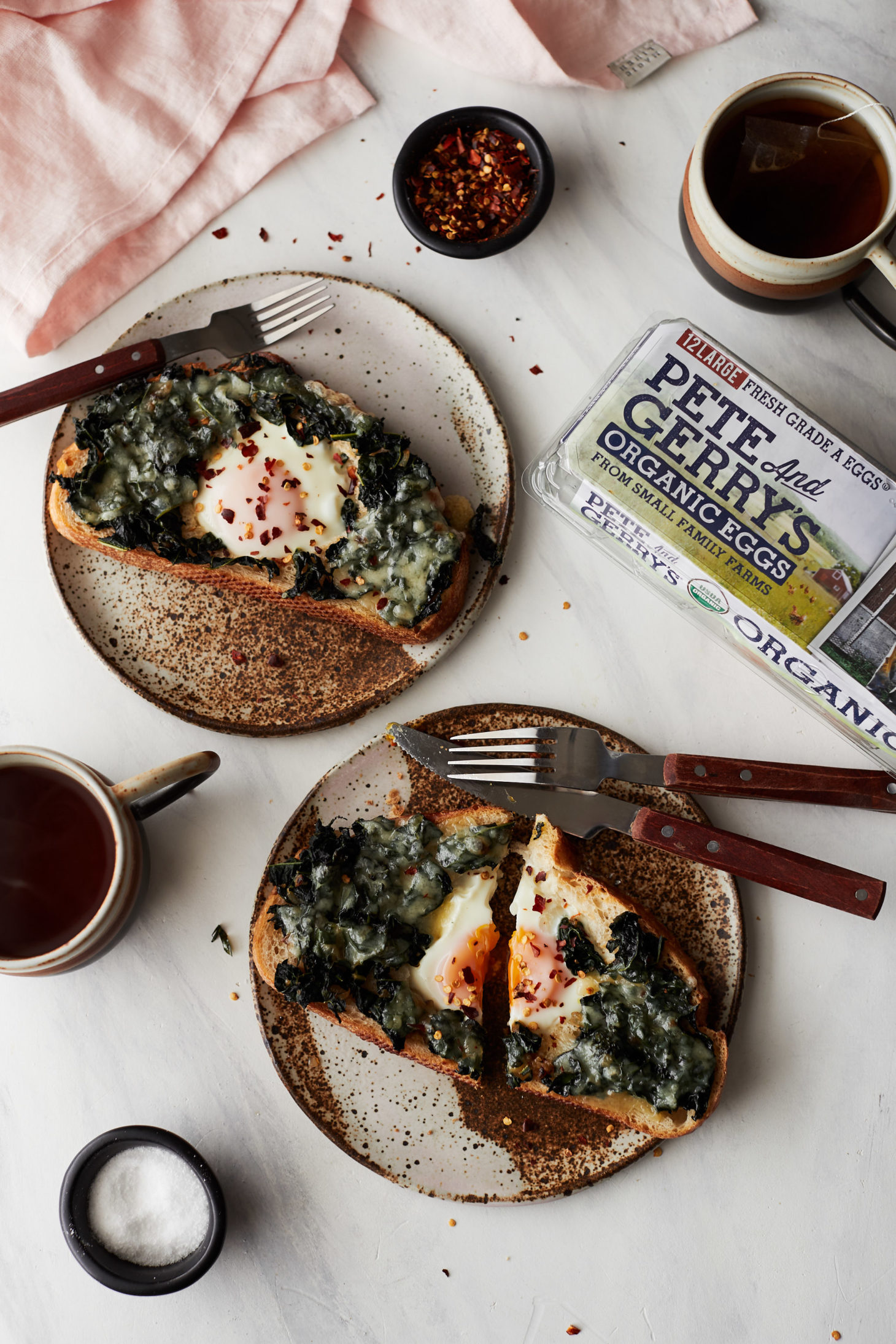 We eat quite a few eggs in our house and I'm always thankful to partner with companies that take their responsibility seriously. Pete and Gerry's Organic Eggs partners with small family farmers across the country who are ingrained in their communities. The eggs are always fresh and I know I'm buying a quality, USDA Certified Organic and Certified Humane product. If you're in need of more inspiration after this recipe, a few solid spring egg recipes include: Pesto asparagus with eggs, onion chard frittata, or Fried egg cauliflower bowl.
Cheese to your heart's desire
As it mentions in the recipe, there is no limit on cheese here. I really just recommend you go with something that melts well. My favorite bites are those with a perfect blend of melty cheese, greens, bread, and eggs. A few of my favorites include manchego, gruyere, taleggio, or even mozzarella.
Serve it with
Finally, I usually like to make these kale eggs-in-holes for brunch which gives me a little leeway on sides. A nice salad could work but I've found they are lovely when paired with seasonal roasted vegetables like asparagus, carrots, squash, or even a nice hash.
Print
Kale Egg in a Hole
Author:
Prep Time:

10

Cook Time:

20

Total Time:

30 minutes

Yield:

2

servings

1

x
Category:

breakfast

Method:

oven

Cuisine:

international
Kale
1 tablespoon olive oil or ghee
1 small shallot, minced
4 cups lightly packed chopped kale (about 4 large kale leaves)
¼ teaspoon sea salt
Everything Else
2 large slices of bread
2 Pete and Gerry's Organic Eggs
1 ounce cheese that melts well, fontina, Gruyère, or Taleggio, shredded
Chili flakes, for finishing
Instructions
Heat your oven to 400˚F.

Heat a skillet over medium-low heat and add the olive oil or ghee. Once the oil is hot, add the minced shallot and cook until fragrant and softened, about 6 minutes.
To the shallot, add in the kale and a pinch of salt. Cook, stirring often, until the kale has softened and is beginning to wilt. You can take some liberty here depending on your preference. Cook for less time if you like your kale to have some texture or cook for longer if you like your kale softer.
While the kale is cooking, use a biscuit cutter or a glass to cut a hole in the middle of the bread slices. Place the bread on a sheet tray lined with parchment and pop into the oven. Toast until just starting to crisp, flipping once halfway through baking. Remove from the oven and carefully crack an egg into each hole.
Spoon the kale mixture around the rest of the toast, then top with the shredded cheese of your choice. Return the pan to the oven and cook until the cheese has melted and the egg white has set, about 10 to 12 minutes.
Remove and serve with an extra sprinkle of salt and/or chili flakes if desired.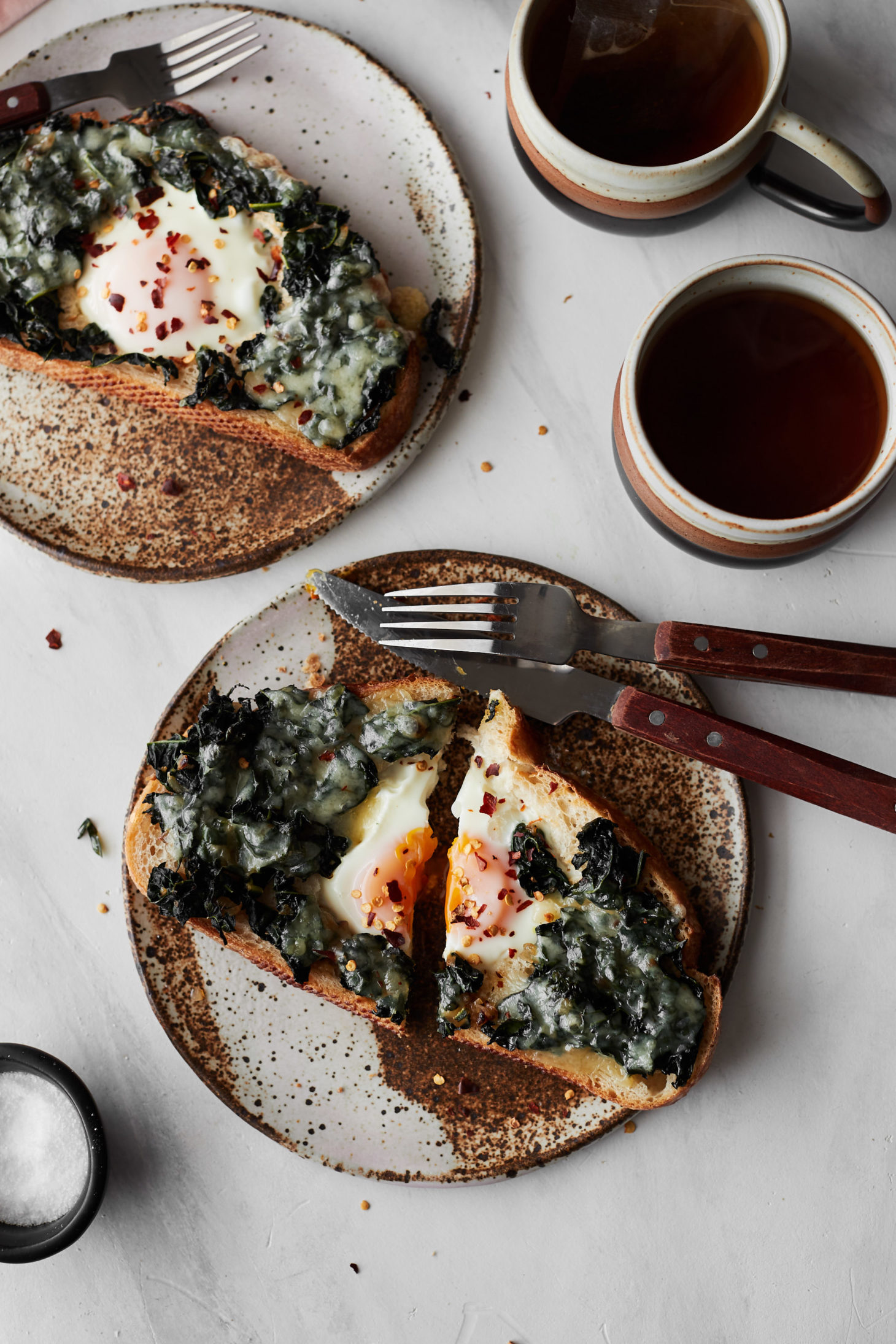 Disclosure: This recipe was created in partnership with Pete and Gerry's Organic Eggs. All thoughts and opinions are my own. It's content like this that helps me keep this site running to provide the vegetarian recipes you see every week.