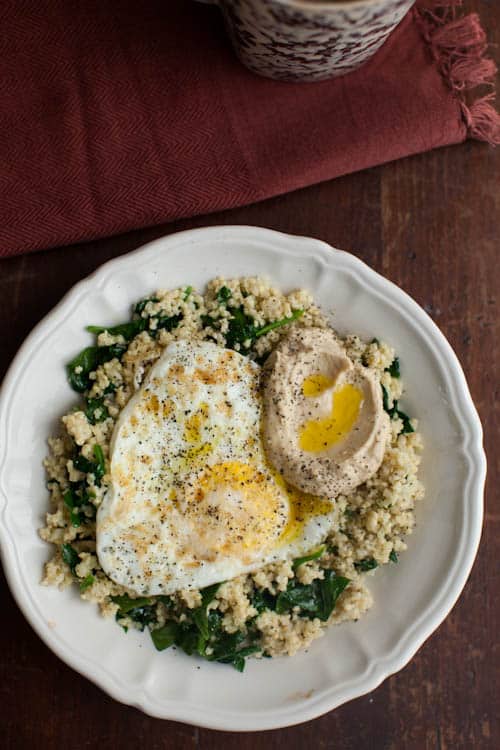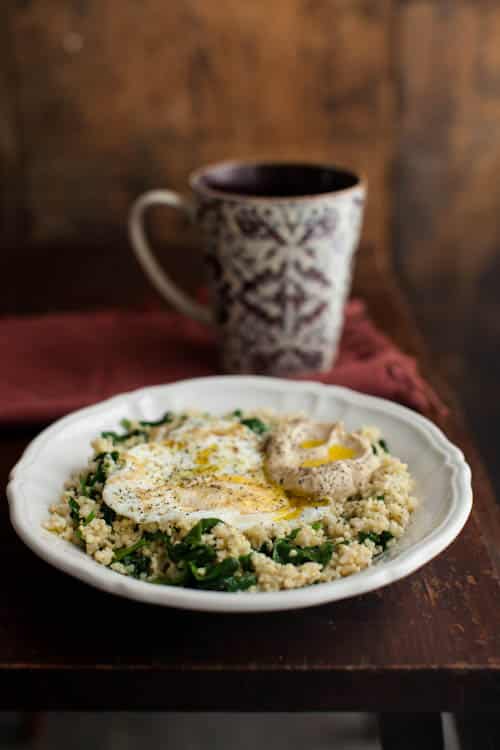 Over the next few months, I'm going to push more towards simple recipes that are made with 1-2 seasonal items and using my pantry as a guide for inspiration. I've spent a lot of time building sections for using bulk bins and seasonal produce (both still continuing to get updates) and I'm hoping to share more simple yet filling pantry-inspired recipes!
First up: garlic spinach + millet + eggs. This spinach is straight from my patio (so excited!) Millet has become one of my favorite grains for flavor and texture. As with most grains, I'll cook up extra millet and save to use throughout the week (I even will reheat it in the morning with milk, cinnamon, maple syrup, and vanilla as a lovely quick breakfast porridge.)
Print
Garlic Spinach, Millet, and Eggs
½ cup

millet

¼ teaspoon

sea salt

¼ teaspoon

black pepper

½ tablespoon

unsalted butter

1

clove garlic, minced

2

-

3

handfuls spinach, shredded

2

large eggs

3

-

4

tablespoons hummus
olive oil, to top
black pepper, to top
Instructions
In a dry sauce pan, add millet and toast, over medium-low heat, for 3-4 minutes. Pour 1 cup water into the pot, bring to a boil, reduce to low, cover, and let cook until the majority of water is absorbed; roughly 15 minutes. Remove from heat, still covered, and let sit while preparing remaining parts of the meal.
Heat butter in a skillet over low heat and add minced garlic. Cook for 1-2 minutes until garlic is fragrant. Add spinach and turn off the heat. Stir and let sit until spinach is mostly wilted. Stir in millet and transfer to plates.
In the same skillet, fry eggs to liking (over-easy, over-hard, sunny-side up) and place on top of millet. Serve with a dollop of hummus, drizzle of olive oil, and sprinkle of black pepper.