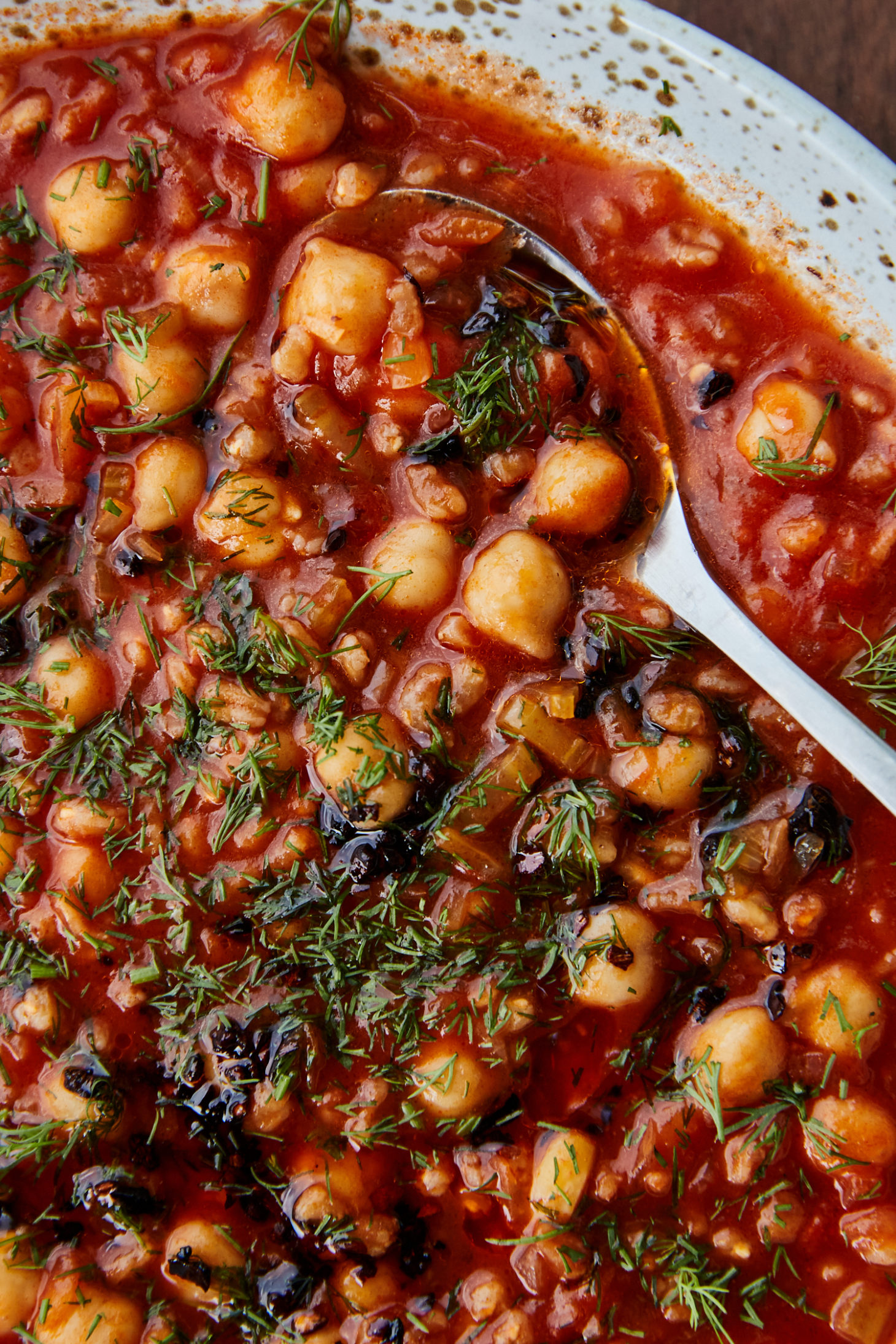 This post is in partnership with Bob's Red Mill.
Since March, pasta has become increasingly harder to source at some of the local grocery stores. This has led to an increase in making pasta in some areas but in other areas, I've started adapting some of my most-used recipes that call for pasta. In this case, it was using the base for pasta e ceci and pulling a bit of inspiration from Zuppa di ceci e farro.
Bob's Red Mill Organic Farro
I like using Bob's farro for this recipe since it's a pearled version- the cooking time is much than if using whole grain farro. The farro cooks while prep and cooking of the other ingredients in the soup are done. It still takes about 45 minutes, but it's one of my favorite dinners (as long as I have good bread to eat with it).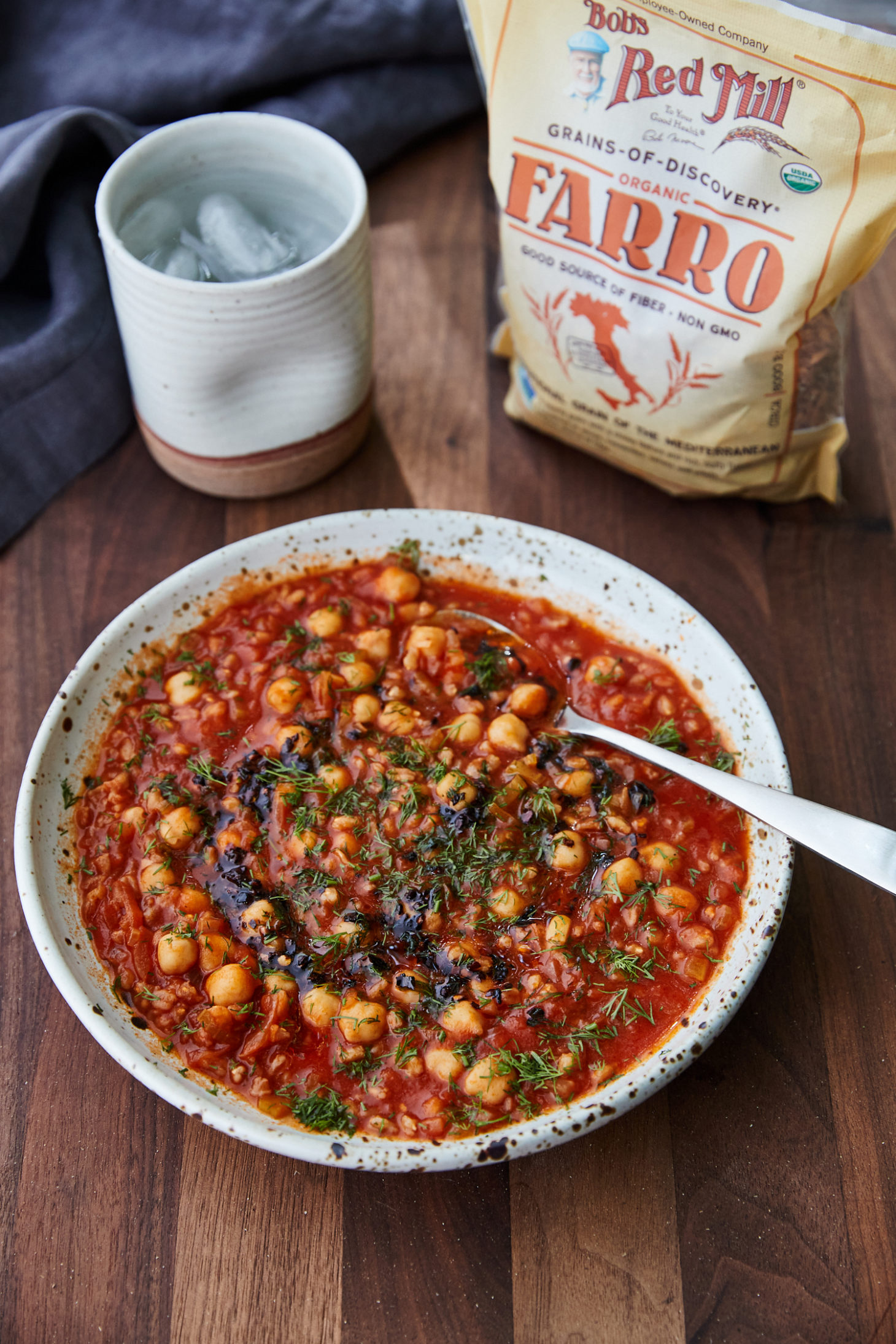 Greens
When my refrigerator is packed full of greens during the cooler months, I'll add in shredded kale or chard towards the end of cooking. It's a great way to add even more heft to the recipe and a great way to use up any greens you might be trying to figure out how to use. I usually toss in 2 cups, shredded, which will cook down as well.
The finishing oil
My original recipe called for making a rosemary-garlic oil, but I find balancing a bit of freshness with the cooked ingredients to be a nice balance during the fall. The dill is small but makes a big impact. Parsley would also work and if all else fails, make the rosemary oil from the original recipe.
Vegan
Finally, to make this vegan, I've been stirring in a couple of tablespoons of light miso at the end of cooking. It brings a bit of the same salty umami that the parmesan provides. If you go this route, don't add salt before you add the miso.
Print
Farro e Ceci
Author:
Prep Time:

10

Cook Time:

45

Total Time:

55 minutes

Yield:

2

large servings

1

x
Farro
½ cup uncooked Bob's Red Mill Farro
1 ½ cups water
1 tablespoon olive oil
¼ teaspoon sea salt
Base
1 small yellow onion, minced
½ rib celery, minced
2 garlic cloves, minced
1 tablespoon olive oil 
¼ teaspoon salt
3 tablespoons tomato paste
1 cup tomato sauce
1 cup cooked chickpeas (drained + rinsed if using canned)
2-3 cups water
½ cup grated parmesan
Topping
1 teaspoon crushed red pepper flakes
¼ cup olive or neutral oil
2-3 tablespoons minced dill
Instructions
Combine the farro with the water, olive oil, and salt. Bring to a boil, reduce to a simmer, cover, and cook for 25 minutes. The farro should be mostly softened but will finish cooking in the soup.
Finely mince the onion, celery, and garlic. I like to chop, but you could easily pulse in a blender. Heat a pot over medium heat. Add the olive oil, followed by the onion/celery. Cook until the mix has softened and beginning to turn golden. Add in the garlic, cooking for a minute more. Next, stir in the tomato paste and cook for another minute or so.
Add in the tomato sauce, chickpeas, and 2 cups of water. Bring to a boil, reduce to a simmer, stir in the partially cooked farro and continue to cook until the sauce has thickened and the farro is cooked through; about 10 to 15 minutes. If the soup is looking too thick, add ½ cup of water at a time.
While the farro is cooking, make the oil. Place the chili flakes in a heat-safe bowl that's large enough to hold the hot oil too. Place the oil in a pan and heat over medium heat until the oil is hot (should appear to shimmer). Carefully pour the oil over the crushed red pepper and let cool.
Once the farro is done, stir in the parmesan. Taste and add more parmesan and/or salt as desired. Divide into two bowls and top with a small drizzle of oil and fresh dill.