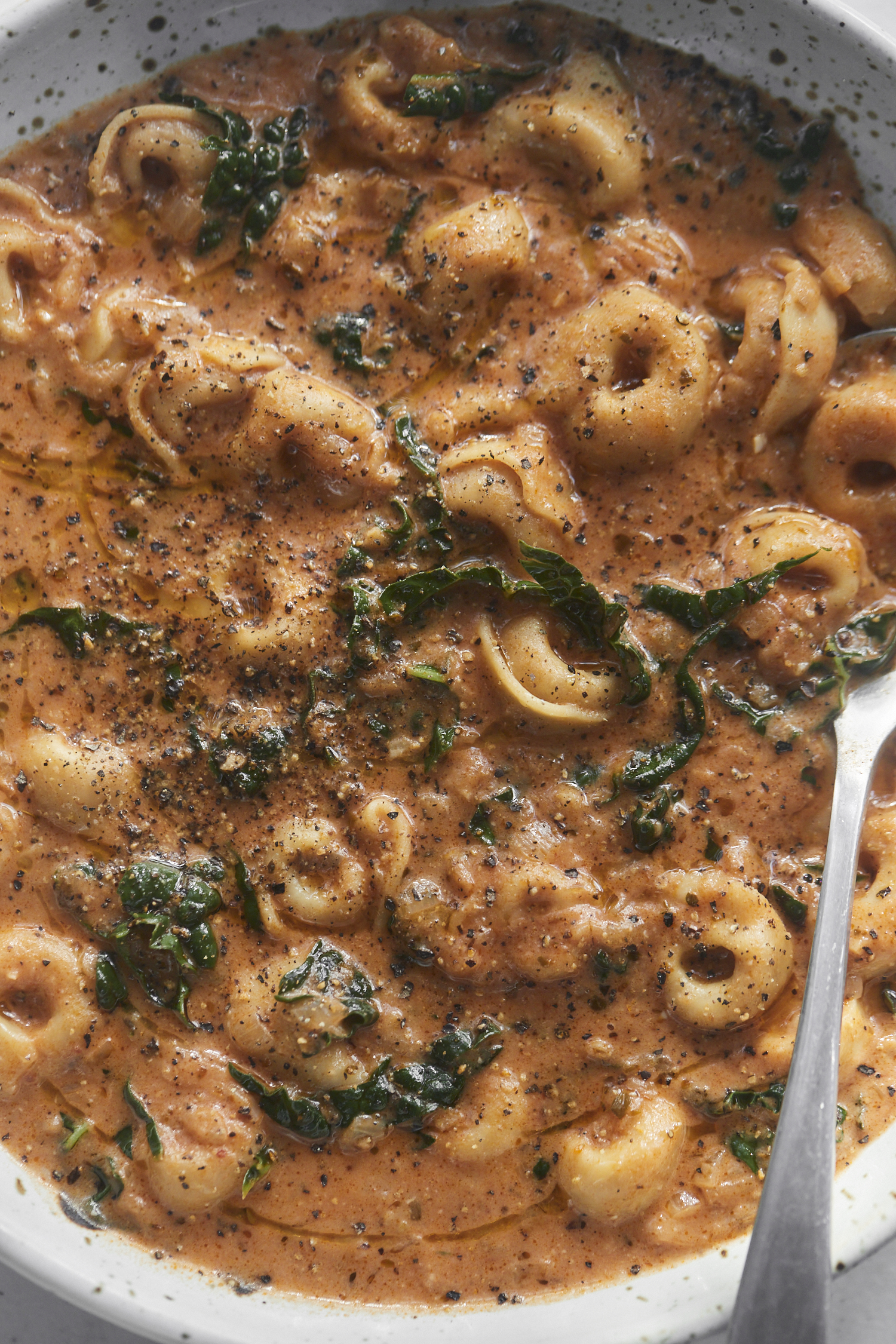 During the wild weather here in Northern California, I stocked up on a few items to make quick meals on the camp stove if we lost power. Now that the storms have passed, I've started to use these items in my everyday cooking. 
I always find pasta comforting and have been drawn to tomato-based tortellini soup. Traditionally tortellini is served in a broth (tortellini en brodo) which I also love. However, the kid in me still loves the tomato soup/pasta combination.
Here, I use a simple base of onions, garlic, and tomato paste before layering in oregano, fennel, and sweet paprika. I prefer the flavor better when the onions have a longer time to cook than most soup recipes call for. Also, I finish the soup with a nice amount of miso cream- a favorite ending of mine when it comes to thicker soups (and it pairs quite nicely with the cheese tortellini)!
About salt: between the broth, miso, and cheese in the tortellini, the salt level can ramp up quickly. I recommend starting with ½ teaspoon for the onions and waiting until you finish the soup to taste and adjust. The miso replaces quite a bit of the need for salt, and it's easy to salt too much too early and end up with something a bit extra!
About beans: this soup is also delightful with the addition of beans. Still with a small, tender white bean like the alubia blanca/navy bean.
About making this vegan: while it won't be the same, you can use a small to medium-sized unfilled pasta and then use a nut cream instead of the heavy cream. Other than that, everything stays the same!
Print
Tortellini Soup with Greens
Author:
Yield:

4

servings

1

x
Ingredients
3 to 4 tablespoons (36-48g) olive oil
1 medium (300g) yellow onion, diced
½ teaspoon kosher salt
3 to 4 large (18g) garlic cloves, minced
3 tablespoons (35g) tomato paste
1 tablespoon dried oregano
2 teaspoons ground fennel seeds
1 teaspoon sweet paprika
½ teaspoon black pepper
¼ cup dry white wine
¾ cup (190g) tomato sauce
3 cups (720g) vegetable broth
6 ounces of dried cheese tortellini
1 cup (30g) shredded and packed spinach, kale, or chard
⅓ cup (80g) heavy cream
2 tablespoons (36g) white miso
Olive oil and Black pepper for serving
Instructions
Heat a medium pot or braiser over medium heat with a thin layer of olive oil coating the bottom. Add the diced onions and salt to the pan. Cook until the onions begin to soften and you notice a separation of the olive oil from the onion, about 6 minutes or so. Reduce the heat to medium-low and continue to cook for another 20 minutes, stirring occasionally and ensuring the onions are in a thin layer. The onions should be a nice golden color and quite soft.
Add in the minced garlic and cook for another two minutes, then follow closely with the tomato paste, cooking again for another two minutes. Once the tomato paste cooks, measure in the oregano, fennel seeds, paprika, and black pepper.
Let those flavors mingle with the tomato paste/onion mixture for about a minute, then deglaze the pan with the wine.
As the base is ready, add tomato sauce, vegetable broth, and tortellini. Bring to a boil, reduce to a simmer, and cook until the tortellini is tender (this was about 15 minutes for the small dried tortellini I used- if using fresh, I recommend cooking the tomato sauce for a bit before adding the tortellini as they will cook much quicker).
Once the pasta is tender, lower the heat and stir in the shredded greens. Mix the miso and heavy cream in a small bowl, then add to the pot as well. Taste and adjust flavors as desired. Serve with a drizzle of olive oil and black pepper.