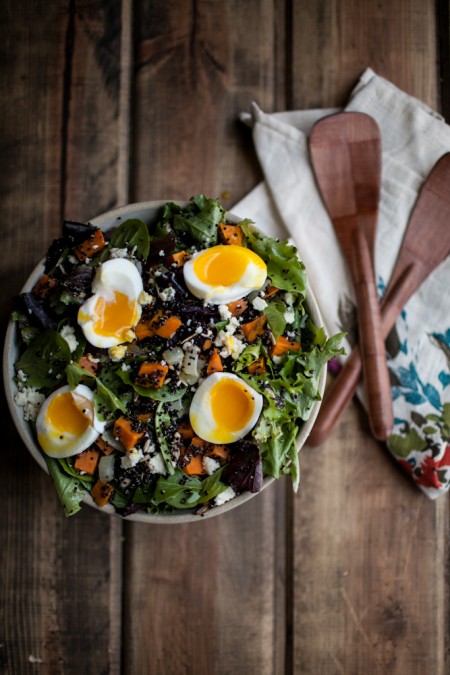 I walked into my kitchen with one goal in mind: make a hearty salad without having to go to the store. I still on occasion walk into my kitchen and feel ho-hum, as if all the ingredients I have can't make one decent meal. I used to be horrible about this and that would often lead to me convincing M to order food (but, I'd do it in a way that seemed like he came up with the idea to order food so I didn't feel guilty about not tackling something in the kitchen).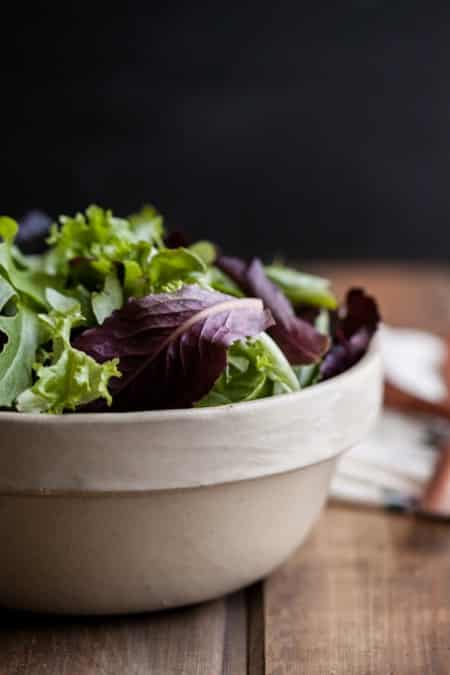 I knew I wanted a salad. I bought lettuce at the store (my first time since March- I get so spoiled with the CSA) with the goal of making a big salad. I needed some color in my life.
However, the lettuce was as far as I got. I had no plan for this salad other than I wanted it to be hearty. I started with my lone sweet potato (because it is the time of year when I only develop recipes with sweet potatoes-not really, but it always feels like it), some quinoa, gorgonzola that I bought awhile ago with intentions to make other things, and just for good measure, some sunflower seeds. I tossed the whole thing together with a drizzle of olive oil and balsamic vinegar and called it good.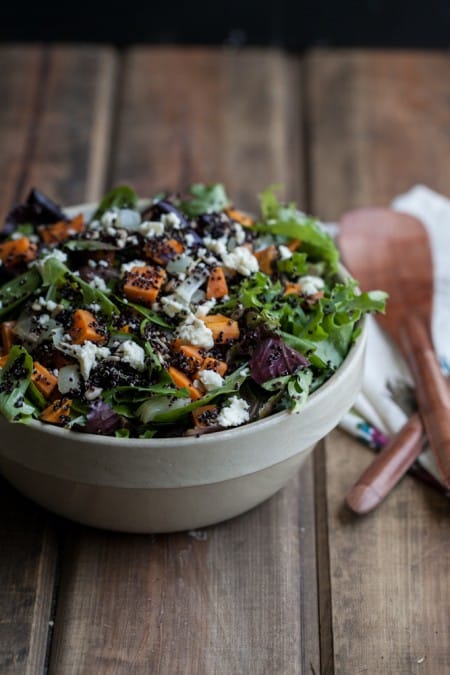 Well almost good. I mean, why stop there when you can add eggs? I've always loved hardboiled eggs on my salad but recently I've felt on a roll with runny eggs (of course, this salad can also be made with hardboiled- it's really up to you!)
This salad is perfect for a bit of January pick-me-up. It's the type of meal you eat and then feel like you can tackle the world (although thinking back, that might have been all the tea I drank right before eating this salad). Either way- it's delicious and perfectly filling.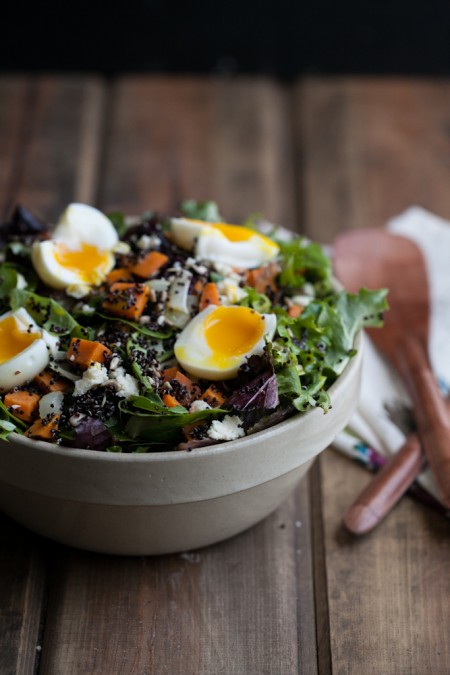 Print
Sweet Potato and Quinoa Salad with Soft-Boiled Eggs
Author:
Prep Time:

10 mins

Cook Time:

30 mins

Total Time:

40 mins
Sweet Potatoes:

1

medium sweet potato

½

medium onion

½ tablespoon

olive oil

1 tablespoon

fresh rosemary, minced
Quinoa:

½ cup

uncooked quinoa

1 cup

water
Salad:

2

-

3

handfuls of lettuce

⅓ cup

gorgonzola

¼ cup

sunflower seeds

1 tablespoon

olive oil

1 tablespoon

balsamic vinegar

2

-

3

eggs
Instructions
Preheat oven to 400˚. Cube sweet potato and onion. Toss with ½ tablespoon olive oil and rosemary. Roast until tender, 20-25 minutes.
Rinse quinoa and combine with water in a sauce pan. Bring to a boil, reduce to low heat, cover, and let cook for 15 minutes. Remove from heat and let sit for another 5 minutes, still covered.
Let sweet potatoes and quinoa cool while making soft-boiled eggs.
Bring a pot of water to a boil and reduce to a fast simmer. Add eggs and let cook for 5-7 minutes (5 minutes for runny yolks, 7 minutes for slightly firmer yolk). Remove and place in an ice bath for 60 seconds.
In a large bowl combine lettuce, sweet potatoes, quinoa, sunflower seeds, and gorgonzola. Drizzle olive oil and balsamic vinegar over salad and toss together. Top salad with eggs.