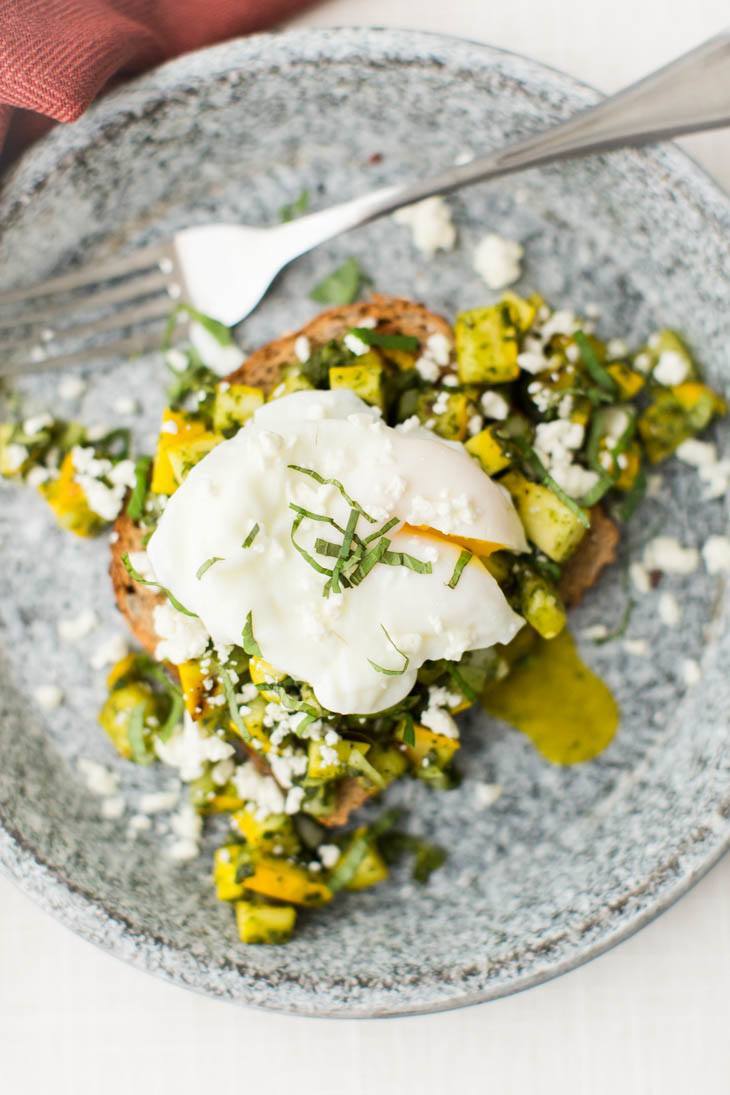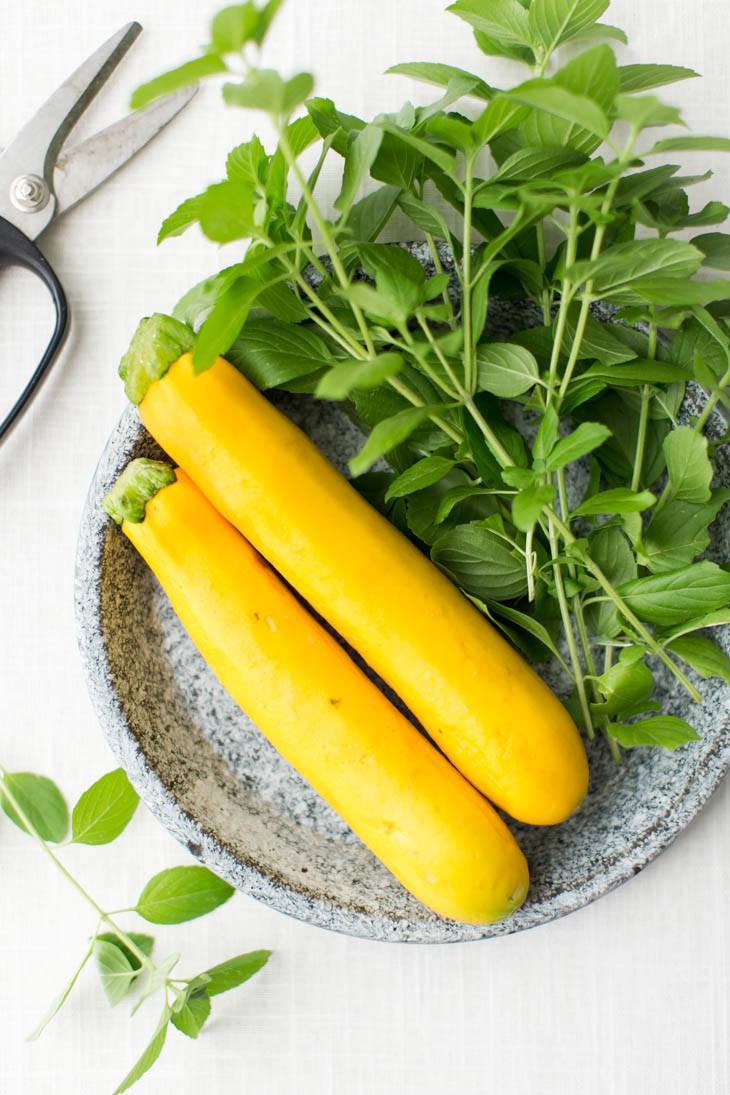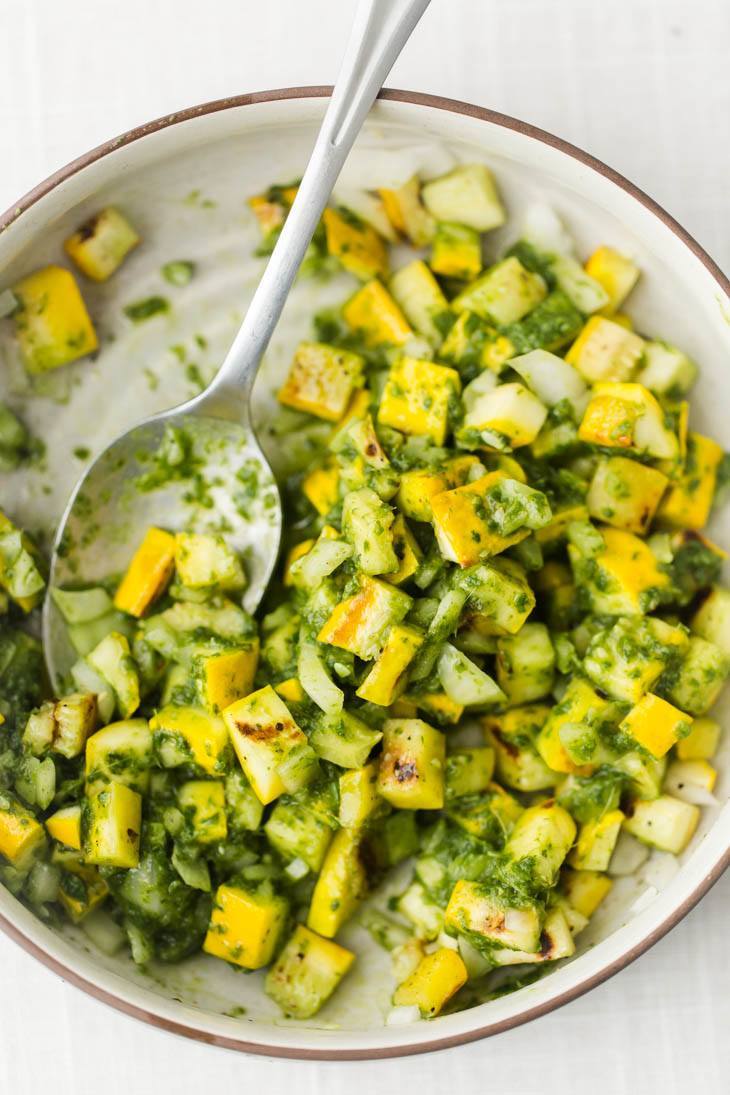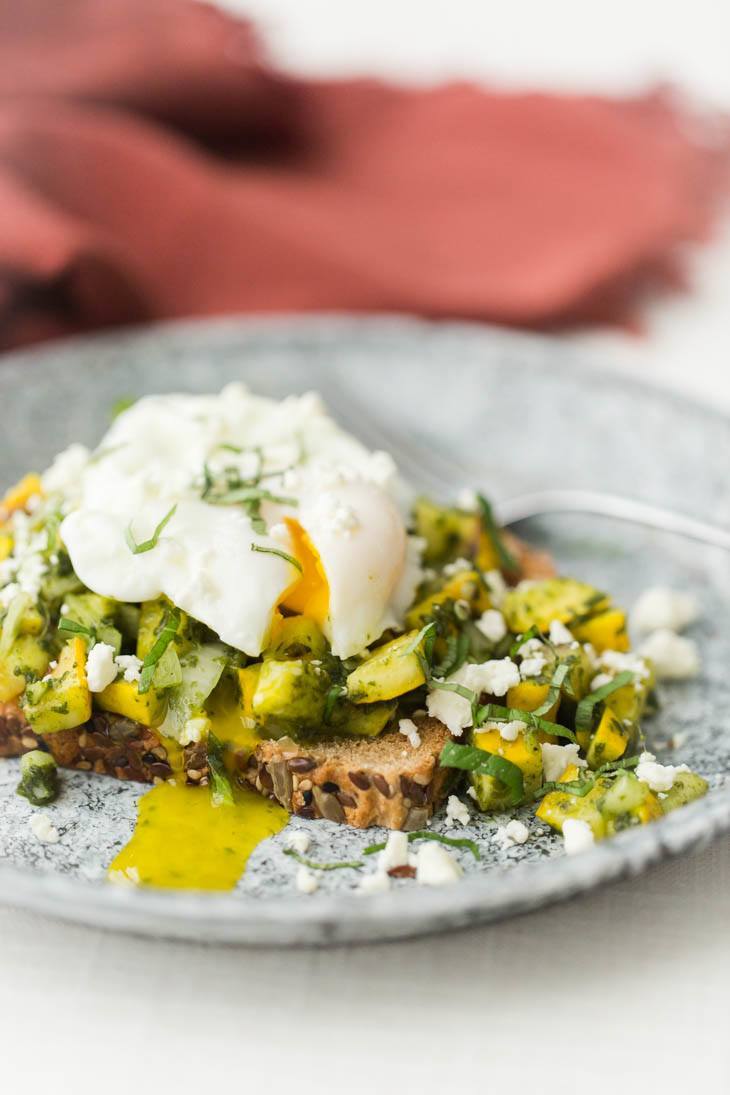 Your comments about The Easy Vegetarian Kitchen over the past few months have been awesome. I've heard from so many of you through email, instagram, and comments that are making new recipes at home and getting excited about playing with seasonal ingredients. It's the exact reason I wanted to make this book. So to those of you who have been sharing- thank you! And if you make something and share it on instagram, be sure to tag it #naturallyella!
This pesto summer squash is straight from the book but I added a poached egg to move it from an appetizer to a solid meal. Summer squash usually gets mixed in with zucchini and I occasionally like to let it shine on it's own. The light flavor of the squash soaks up all the good flavor of the pesto.

Pairings for Pesto Summer Squash Bruschetta
Breakfast
While you could easily eat this bruschetta toast for breakfast, I actually prefer to ditch the bread. Instead of poaching the egg, I make an omelet that is stuffed with the grilled pesto summer squash and feta. It's an easy way to keep the meal gluten-free without worrying about the toast. Either way you prepare it, this meal goes well with:
Side: Bowl of fresh berries: blackberries, blueberries, and raspberries
Drink: Clean, full-bodied breakfast coffee
Lunch/Light Dinner
The nice thing about this recipe is that the pesto summer squash can easily be dressed up for a solid lunch or a light dinner. Instead of making another full recipe, I find it's best to let the summer flavors shine. For lunch or dinner I would pair this bruschetta with:
Side: Fresh sliced tomatoes sprinkled with sea salt and freshly cracked black pepper
Drink: Sauvignon Blanc-medium bodied that is crisp/dry but if you can find one that has notes of lemon and/or fruit (like peaches).
Print
Pesto Summer Squash Bruschetta with Poached Eggs
This pesto summer squash recipe is from The Easy Vegetarian Cookbook. The original recipe is doesn't call for the egg, but with the addition, this meal becomes the perfect lunch or light dinner.
Author:
Prep Time:

15 mins

Cook Time:

10 mins

Total Time:

25 mins

Yield:

2

servings

1

x
Squash

1

medium summer squash

¼

small red onion, minced

½ tablespoon

olive oil

¼ teaspoon

black pepper
Pesto

2

cloves garlic

1 ½ cups

packed basil leaves, plus extra for topping

⅓ cup

parmesan cheese (look for cheese that uses vegetarian rennet)

2 tablespoons

toasted pine nuts

¼ cup

olive oil

3 tablespoons

fresh lemon juice

2

pieces of toast

2

large eggs, poached

1

to

2

ounces feta
Instructions
To make the squash, light the grill to medium-light heat. Slice the squash into ½ slices. Brush the squash and onions with olive oil and sprinkle with pepper. Grill 2 to 3 minutes per side until charred. Remove from grill, let cool slightly, cut the squash into cubes, and dice onion.
To make pesto: In a food processor, pulse the garlic. Add the basil, Parmesan, pine nuts, olive oil, and lemon juice. Pulse until well combined, adding more liquid (olive oil/lemon juice) as needed to thin the consistency. Toss the grilled squash mixture with ¼ cup of the pesto.
Divide the squash mixture over the two pieces of toast. Finish with the poached egg, feta, and a sprinkle of basil.
Featured Ingredient