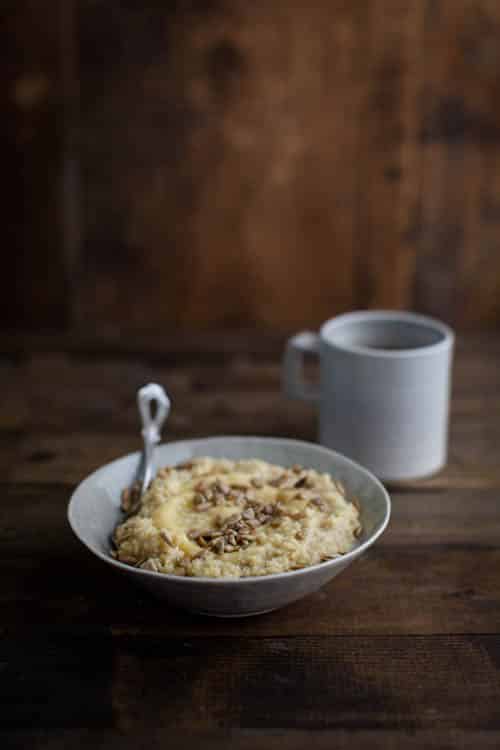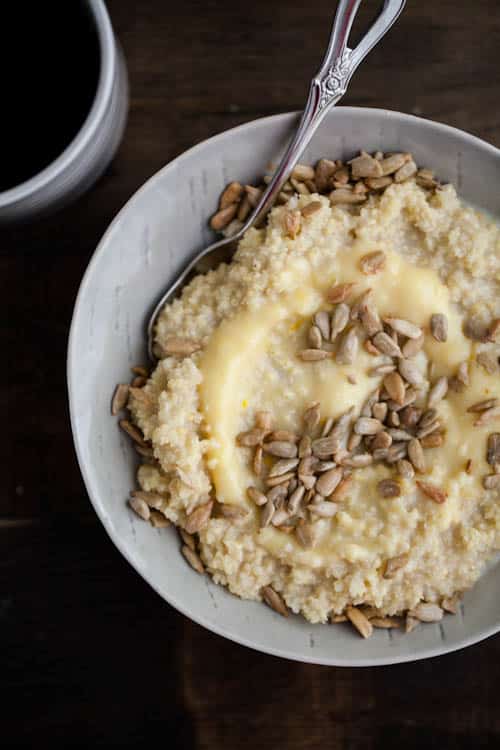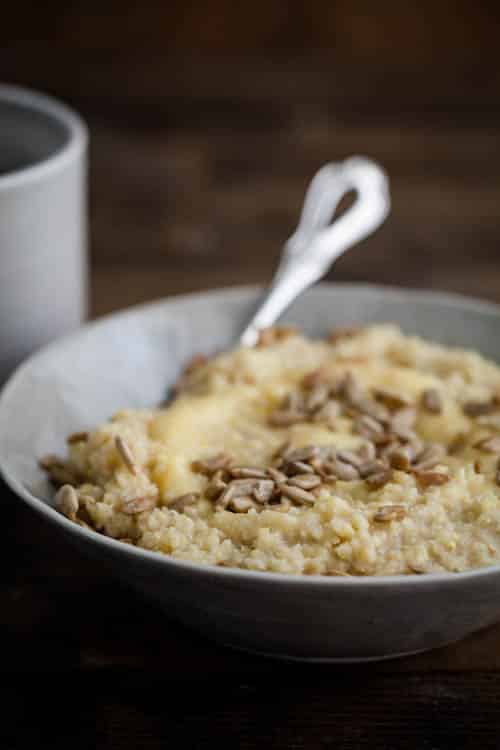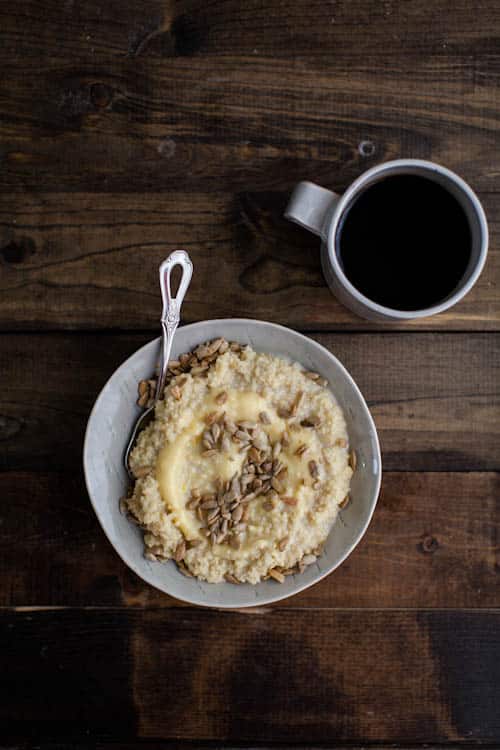 [/ba-column]
Post will be short and sweet from here until the new year. I know many people are wading through piles of cookies and planning holiday dinners but life has been pretty normal around here. M and I headed down to San Francisco last weekend to finish up (aka- start and complete) our shopping and really just to enjoy a day out of the house. We leave on Tuesday to head home to Illinois and from there we fly to Texas (it's going to be crazy.) This year has been strange and very un-holiday like (even with the 9' tree we have taking up a quarter of our living room). I blame the lack of snow and the first year being away from our families for the majority of the month. Also, M and I have determined that since moving to California, time moves at a faster rate (for this I blame the day in and day out of sunshine.)
So instead of holiday cookies and meals, I give you this simple porridge. Tuck this one away for the beginning of the year- I promise this is a great way to start your day. Ever since the cornbread pancakes, I've been on a "how many ways can I find to eat lemon curd for breakfast." Grand total so far: 10 and counting. You will probably hear me talk a lot about citrus this year mainly because it's new and exciting for me (I mean, I could buy lemons and oranges in Illinois during winter but I could never pick one off a tree!)
I love all types of grain porridges- so hearty and can be gussied up in so many ways. I highly suggest that if you fall in love with whole-millet porridge, you try the cracked millet version as well (adds an extra layer of creaminess!)
Print
Millet Porridge with Lemon Curd and Sunflower Seeds
Author:
Prep Time:

5 mins

Cook Time:

30 mins

Total Time:

35 mins

Yield:

1

-2

1

x
Ingredients
½ cup

uncooked millet

1 ½ cups

water

½ teaspoon

vanilla extract

1 tablespoon

maple syrup

½ cup

whole milk

¼ cup

lemon curd

2

-

3

tablespoons sunflower seeds
Instructions
Add millet to a pot over medium heat. Swirl for 2-3 minutes, letting millet lightly toast. Add water, vanilla extract, and maple syrup. Bring to a boil, reduce to a simmer, and let millet cook until water is absorbed, 25-30 minutes*. Stir the millet occasionally as it cooks.
Once millet is done, remove from heat and stir in the milk. Add more or less milk depending on the texture you desired. Divide into 2 bowls (or eat as one large serving) and swirl in the lemon curd and sprinkle with sunflower seeds.
Notes
*While stirring, I always check the consistency starting after about 15 minutes and add water as needed. My "simmer" on my stove top isn't always a simmer.
*Lemon curd being used is originally from my cornbread pancake post