Even though I don't do resolutions, I love the first of the year as a time to reset. I clean and organize the kitchen, jot down a few intentions for the new year, and I sketch of rough list of new things I'd like to try. I like to try and kick myself out of ruts the holidays might have created. I have a feeling quite a few of you feel the same way as I do. Around this time of year, I receive quite a few emails around adding more plants to your meal rotation. This guide is a solid arsenal of resources to help you on your way. It's about using your pantry, soaking up the seasonal produce, planning ahead with components, and potentially a bit of meal prep.
Whether you're trying to add a few more vegetables to your diet or want to dive into the vegetarian lifestyle, I hope that I can inspire and be a source of excitement about learning to cook vegetarian!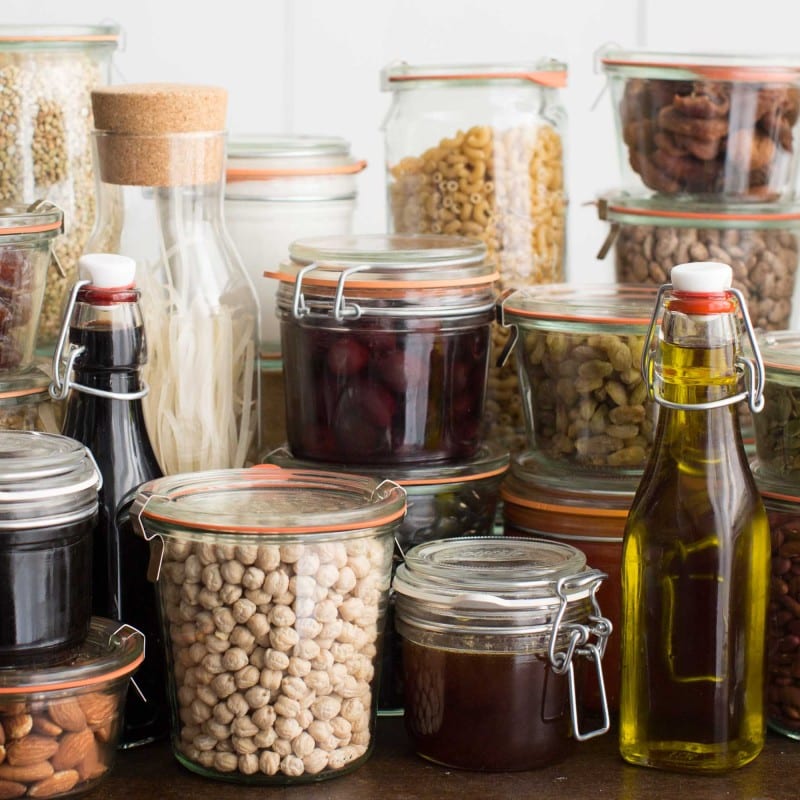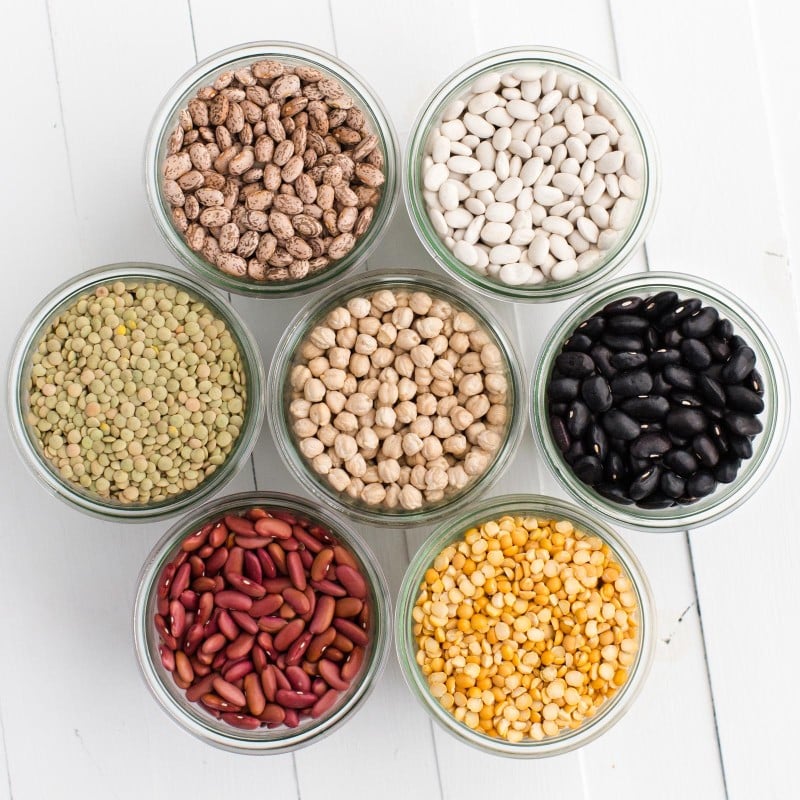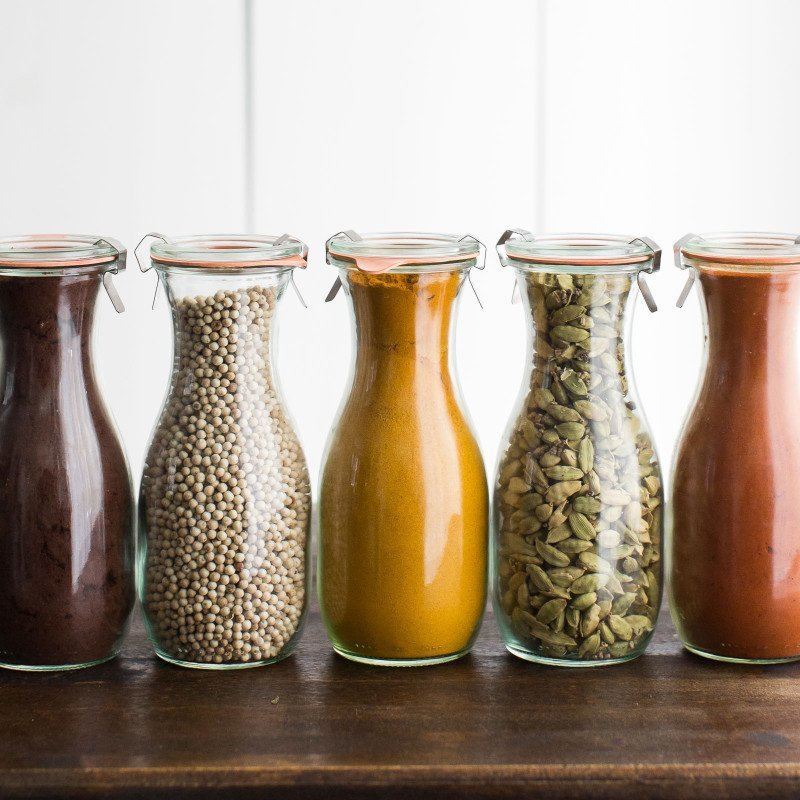 This year is my year of the pantry. I'm kicking off the year with a pantry reset (that you can join/follow along with). I want you to find your pantry happiness and inspiration. The pantry is the backbone for nearly every recipe I make. Having go-to items in your pantry can make the difference between making dinner and ordering pizza. If you find the items you use most and always keep those on hand- your weekly shopping and planning becomes about the produce.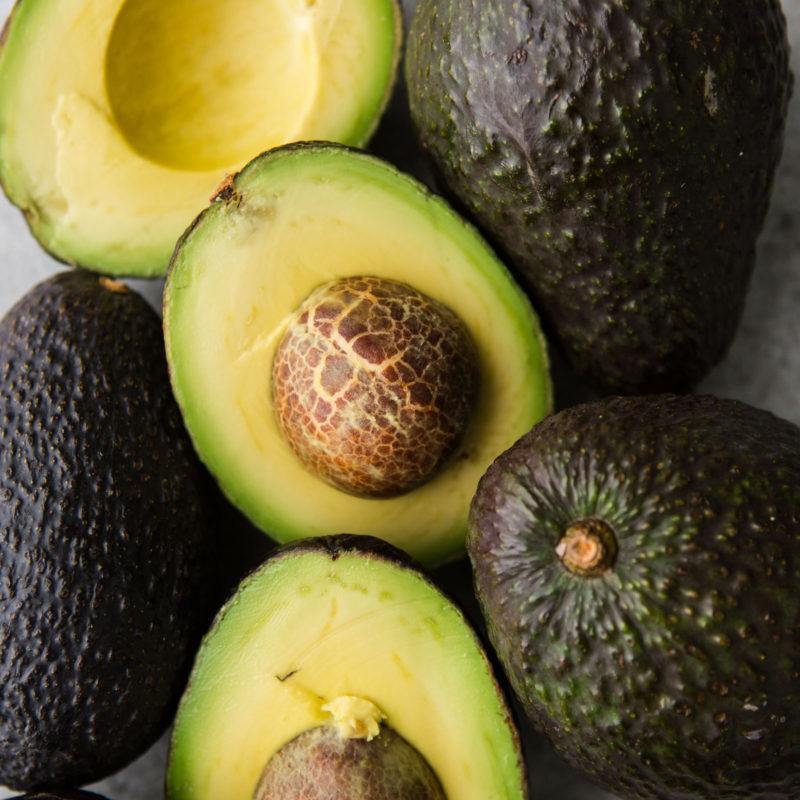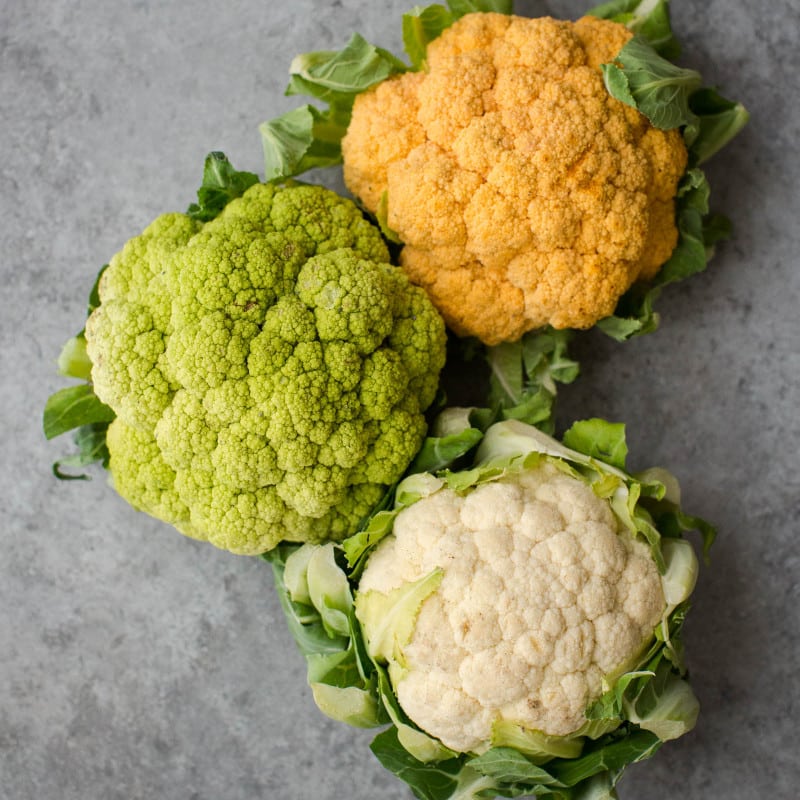 One of my biggest suggestions when it comes to vegetarian cooking is to lead with the produce. Look for what looks the freshest or what sounds the best in any given week. Find recipes to match then add pantry items to help round out the meal. The ingredient area on the site has over 50 items of produce to explore with information about cooking, storing, buying, and of course lots of recipe inspiration!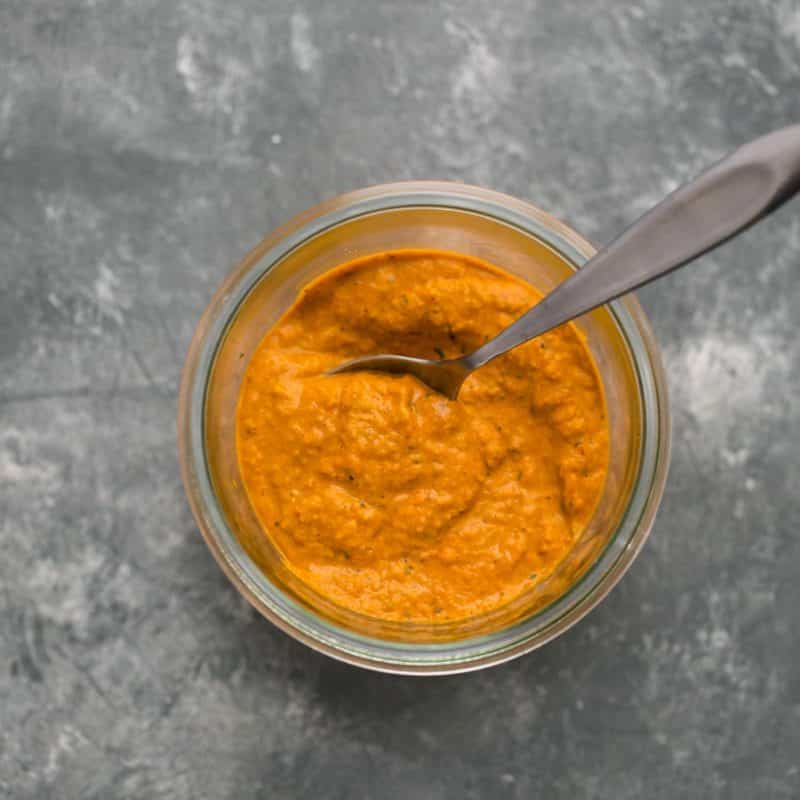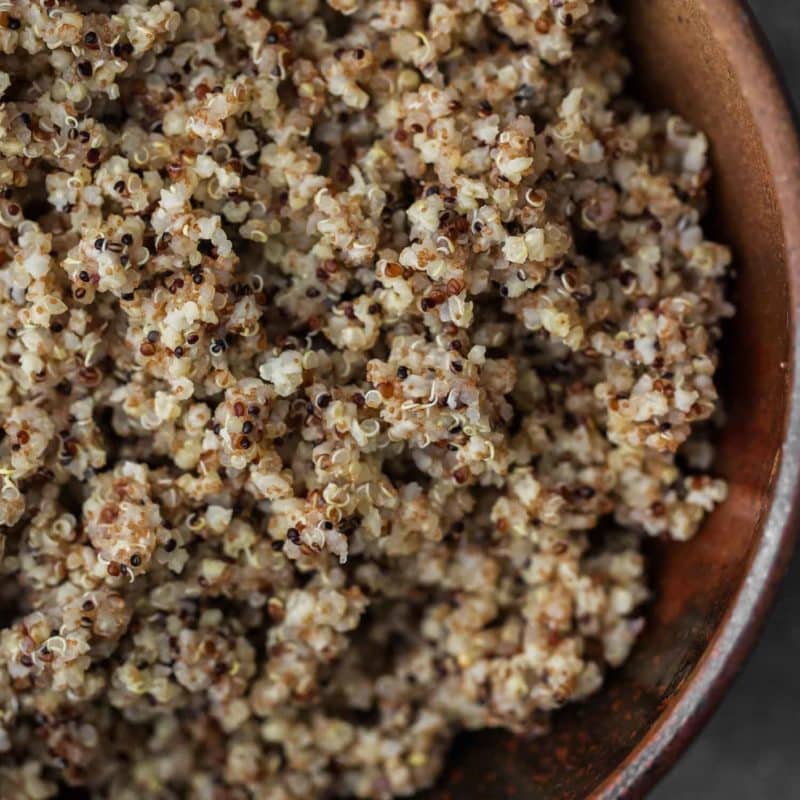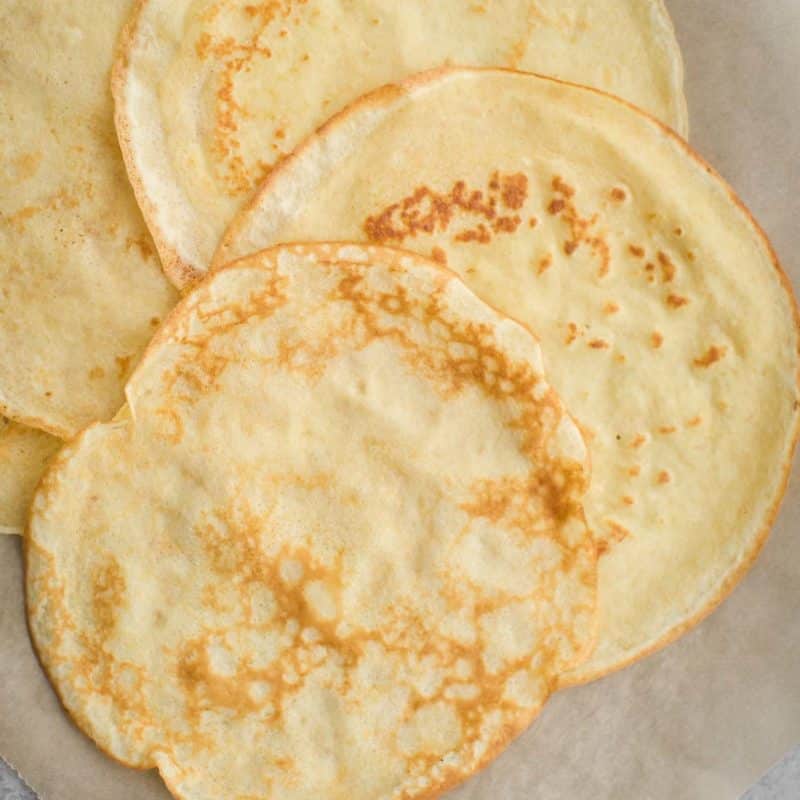 New to the site this year is one of my favorite types of cooking. I love creating items that I can piece together into many different types of meals. It's less about recipes and it's super freeing. This is just a small portion of the components I use but I'll continue to add to this page throughout the year.
30-Minute Recipes
There's a constant struggle between cooking and time. More often than not, we forgo cooking because it's easier to eat out or heat up something prepackaged. I have a solid base of 20 and 30 minute recipes that I find are perfect for avoiding takeout. Planning ahead and the occasional store-bought item are both time-savers too!
See all the 20-minute recipes >
See all the 30-minute recipes >
4-week Sample Meal Plans
Every Sunday, I write up a quick meal plan for the week. Most times it's rough, things like Thursday night pizza or Tuesday night pasta. From there, I use what's on hand with what looked best at the store. Other times I like to try out a new recipe or throw an old favorite back into the rotation which means things are planned a bit more.
Below are 4 weeks of ideas. Each week contains three breakfast recipes, three lunch, and five dinner. The recipes are all linked to recipes on the site. You can easily swap out for recipes that better fit your diet such as vegan or gluten-free. If you would like meal plans every week, you can also check out my Plan your Meals page!
My Favorite Kitchen Tools
Walk into any kitchen store and it's easy to feel overwhelmed by all the gadgets and cookware lining the walls. I take a fairly minimal approach: A solid cutting board and knife are a must as well as a solid set of cookware. I keep a few small gadgets on hand but I like tools that pull double duty. A few of my favorites: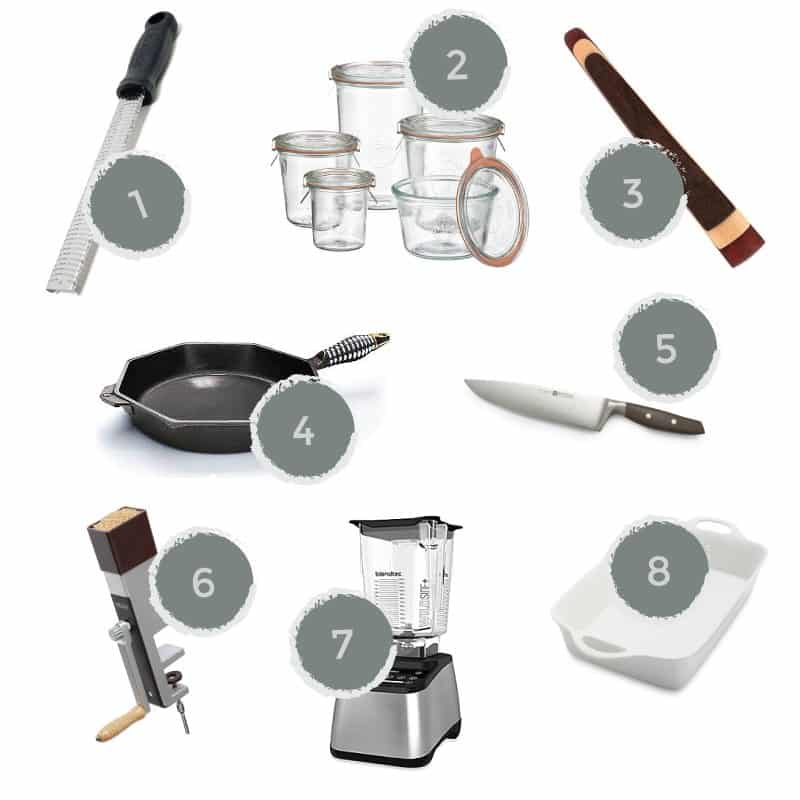 Pictured:
Microplane Zester/Grater: This is my number one tool in the kitchen. It's small but is perfect for citrus zest, grating cheese, and finely mincing garlic/ginger. I use my microplane with almost every recipe.
Weck Jars: Peak inside my pantry and you will see it lined with weck jars. They are functional, beautiful, and the perfect way to store grains, legumes, spices, and many other pantry items.
Wood Spatulas: These spatulas are my go-to cooking utensil. They are like a wooden spoon but way better!
Cast Iron Pans and Dutch Ovens: My kitchen wouldn't be complete without solid cast iron pans and a dutch oven. I love Staub, Finex (pictured), and if you're on a budget, Lodge.
Chef's Knife If you were to invest in only one nice thing in your kitchen, make it a good knife. Vegetable-heavy recipes take a lot of chopping- just one good knife can make all the difference.
Flour Ginder: A flour grinder, whether a hand grinder or a powered grinder, is such a great addition to your kitchen. Freshly milled flour tastes better and keeps more nutrients in your flour. If you want to get started milling your own flour, be sure to check out The Homemade Flour Cookbook.
High-speed blender: This is one of the more expensive investments but I'm a complete convert. If you love soups, sauces, or smoothies- a high speed blender is for you. Better yet, most of these blenders will also grind flour! Vitamix also sells, grain-milling ready, dry containers.
Baking Dishes: Generic but indispensable. I keep an 8x8, 9x9, and 9x12 pan on hand for casseroles, gratins, and roasting vegetables.
Not pictured but also heavily used in my kitchen:
Kitchen Tongs: Tongs are a cheap, easy kitchen tool to have on hand for turning vegetables, checking noodles, or flipping that fried halloumi you are cooking.
Kitchen Scale From weighing flour for baking to squash for cooking- a scale is a must-have in my kitchen.
Bee's Wax PaperPerfect as a replacement for plastic wrap- it's great for covering bowls, wrapping cheese, and storing items in the refrigerator.
Natural Parchment Paper: I like to use either my silpat or parchment for roasting vegetables or lining bakeware.
Freezer-Safe Ball Jars: The pint-sized freezer-safe jars from Ball® are perfect for freezing cooked legumes and grains in 16oz portions without using plastic.
Vegetable peeler: Also an important tool! I like to make sure I found a solid peeler by peeling a butternut squash. If it does it with ease, you're good to go.
Stainless Steel Pots and Pans: While I find myself cooking in cast iron more often than not, having a set of pots and pans is also great (especially the pans).
Most Popular on Naturally Ella