Post sponsored by California Pears. See below for more details.
With pear season in California off to a good start, I thought I would share with you a bit about using pears. One of the things that makes me excited about pears right now is the overlap with summer produce, especially fruit. Pairing fresh pears with berries makes for a delicious yogurt or pancake topping. A pear-berry jam is also wonderful and on current heavy rotation with our nut-butter sandwiches. Beyond that, I'm also fresh off canning about 15 pounds of Bartlett pears. Currently lining my shelves are spiced pears and a lovely pear chutney I'll be thankful for come February.
Similar to apples, pears have different roles in my cooking and baking. Some pears hold their shape well even when cooked, making them perfect for baked goods. Other pears break down easier making them perfect for sauces and pear butters. Of course, there are also the perfect pears for snacking (an easy win with my son!)
Bartlett: All around solid pear. Works well both raw and cooked, also great for canning.
Bosc: Bosc pears have a crisp texture when raw which translate into a pear that holds it's shape beautifully when cooked. These pears are the go-to variety for baked goods and desserts that use halved or whole pears.
Seckel: This smaller pear is, in my kitchen, the perfect toddler snacking pear. These sweet pears are also wonderful used in desserts or sliced for a cheese tray. Seckel pears' size makes them perfect for canning whole too.
Comice: These pears are my choice for snacking. They are one of the sweeter varieties and while you could cook with them, they are best eaten raw as a snack or I like to thinly slice them for a salad.
Red: The red pear is often the star of baked goods. This pear is similar to the Bartlett pear but has a beautiful, deep red color. These are my choice pears for salads but they also are beautiful when showcased in baked goods. Because of the color, I like to find ways to leave the skin on for serving!
Forelle: Similar in size to a Seckel pear, these make for another wonderful snacking pear. Forelle pears have a sweet flavor but I prefer their firmer texture to some of the other varieties. If I'm going on a road trip, these are the pears I bring along for a solid snack!
French Butter: These pears are most popular in the baking and dessert recipes because of their creamy texture. French butter pears are also known for having a bit more juiciness than the other varieties- making them a good candidate for pear based sauces and marinades.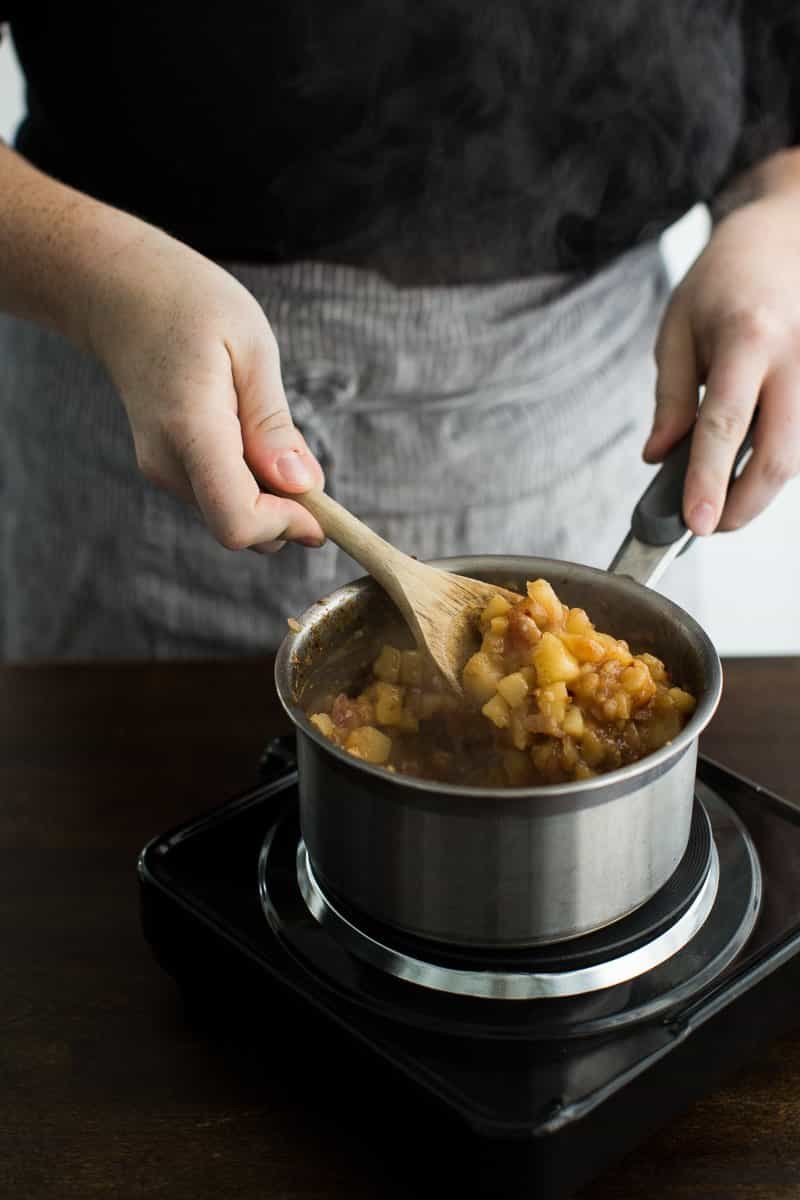 Savory Pear Ideas
Salads: Pears are a perfect addition to salads. There are classic combinations with blue cheese and pecans but I also love using pear with fennel, arugula, and even thinly shaved radish.
Grilled Cheese: Slice the pears thin and add to a grilled cheese for a sweet kick.
Pizza: Similar to the grilled cheese, add sliced pears to pizza with a bit of blue cheese!
Sauces: One of my favorite pear applications: chutney (pictured above). The sweet from the fruit lends itself well to the savory compote, especially when it has a spicy kick to it! Pears are also a great base for homemade salsa with cilantro and lime juice.
Roasted Vegetables: I like to use pear with roasted winter squash for savory grain bowls and salads- the sweet from the roasted pear is the perfect compliment to the earthy squash flavor.
Recipe Inspiration
Disclosure: This recipe was created in partnership with California Pears.. All thoughts and opinions are my own. It's content like this that helps me keep this site running to provide the vegetarian recipes you see every week. |