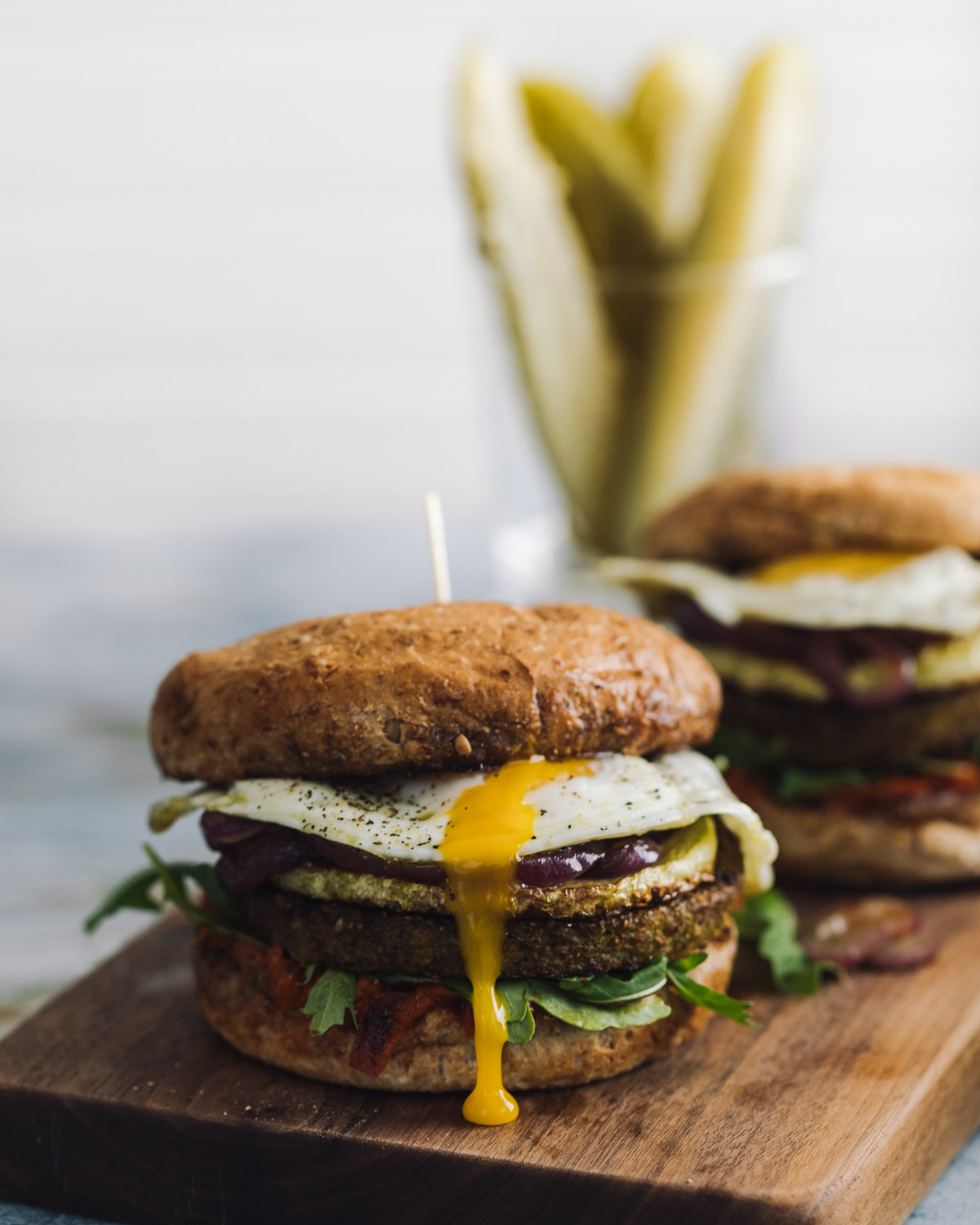 Post sponsored by Pete and Gerry's Organic Eggs. See below for more details.
I feel like I've truly hit adulthood in the past few years, marked by a love of runny eggs. I could easily eat a ghee-fried egg and toast for breakfast every morning, just swap in and out some fresh produce depending on the season. While I know runny eggs aren't for everyone, for me they are the highlight of a meal.
Beyond just the egg, I've been fascinated by the concept of putting eggs on items that don't traditionally get eggs. For breakfast, a solid bowl of oats topped with an egg is the perfect savory way to start your day. For lunch, salads are always a good option. And for dinner, pizza with a fried egg or my new favorite, this loaded veg burger.
There's a couple things going on with this burger. I use grilled vegetables to make a smoky sauce as the base. The arugula adds a nice peppery flavor, and the zucchini brings a great way to add more vegetables. Best of all, the burger is topped with one of Pete and Gerry's organic eggs. I love partnering with them because I know the eggs come from humanely treated, free-range chickens (and I'm supporting small farmers).
Loaded Veg Burger
variations
Chipotle/Smoked paprika: For an extra smokey flavor, add ½ to 1 teaspoon of smoked paprika or chipotle powder to the grilled red pepper sauce.
Grilled Cheese: Transfer the sauce, arugula, grilled vegetables, and fried egg to a grilled cheese sandwich. It's such a great way to elevate the everyday sandwich.
Greens: I realize arugula is not for everyone but you can easily swap fresh lettuce or spinach in place of the arugula.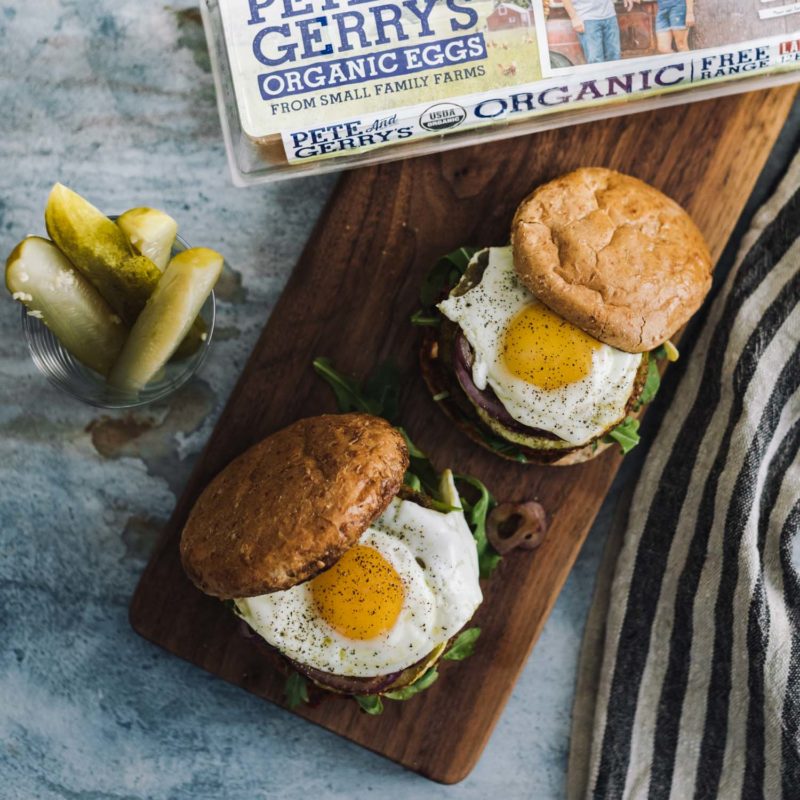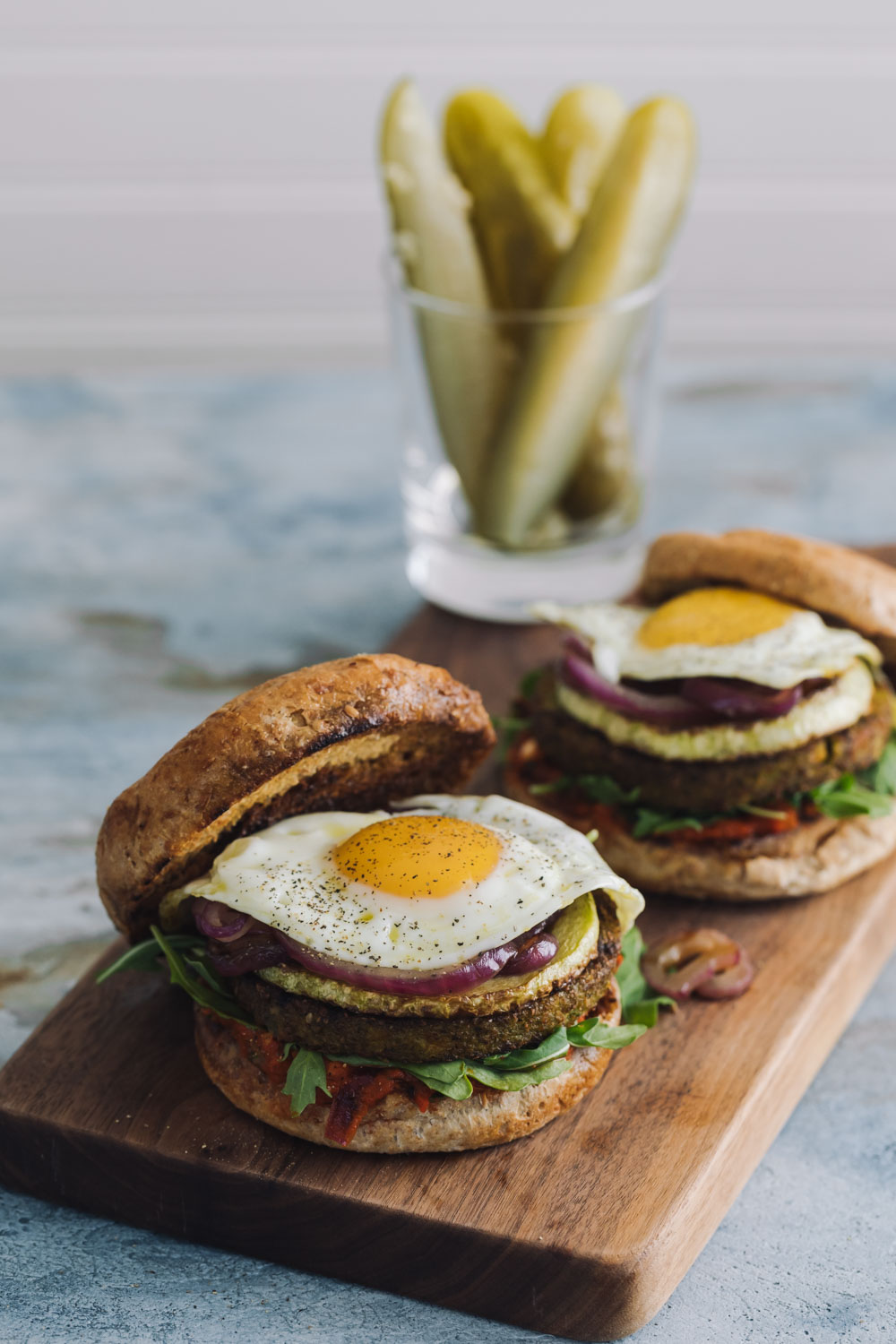 Print
Loaded Summer Veg Burger with Fried Egg
Author:
Prep Time:

10 minutes

Cook Time:

20 minutes

Total Time:

30 minutes

Yield:

4

servings

1

x
Grilled Vegetables
1 small zucchini (8 ball zucchini work best)
1 small red pepper
1 small red onion
1 tablespoon olive oil
Pinch of salt
Pepper Sauce
3 tablespoons fresh flat-leaf parsley
1 small clove garlic
1 tablespoon lemon juice
2 to 3 tablespoons olive oil
Pinch of Salad
Burgers
4 of your favorite vegetable burgers
4 hamburger buns
4 large Pete and Gerry's Organic Eggs
2 tablespoons ghee
1 to 2 handfuls arugula, for topping
Instructions
Light your grill. Prep the vegetables by cutting the zucchini and onion into ½" thick rounds and leave the pepper as is. Brush everything with olive oil, sprinkle with salt, and place on the grill along with the vegetable burgers. Grill everything, turning occasionally, until lightly charred (the red pepper should be blistered, like a roasted red pepper. It may need to hang out on the grill a bit longer.)

While everything is grilling, fry your eggs. I prefer to use ghee and and spoon the ghee over the egg whites, and a couple times over the egg yolks, until everything is set.

When everything is grilled, remove the charred skin and seeds from the red pepper. Place in a food processor or blender along with 1 slice (4 to 5 rings) of the onion and all the ingredients for the pepper sauce. Blend until smooth, tasting and adding more parsley or salt as desired.

Toast the buns on the grill and layer with the red pepper sauce, arugula, burger, grilled zucchini, extra onions, and a fried egg. Serve while hot.
Disclosure: This recipe was created in partnership with Pete and Gerry's Organic Eggs. All thoughts and opinions are my own. It's content like this that helps me keep this site running to provide the vegetarian recipes you see every week. |