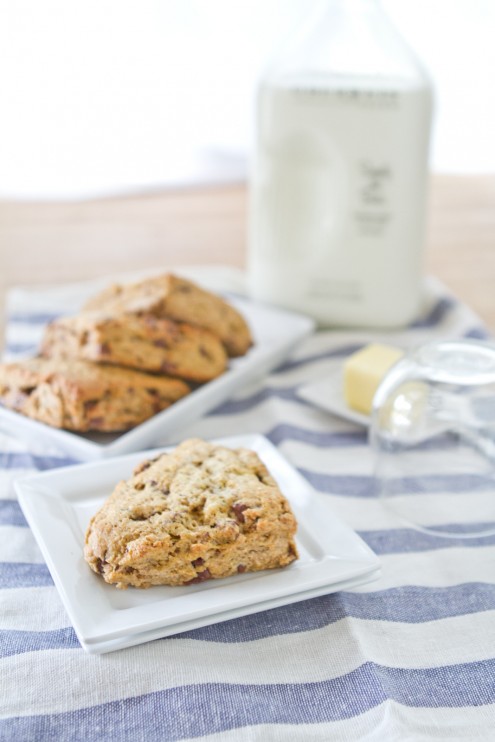 Author: Erin Alderson
1 1/2 cup whole wheat pastry flour
2 tablespoon organic cane sugar
2 1/4 teaspoon baking powder
1/4 teaspoon baking soda
1/2 teaspoon salt
6 tablespoon cultured organic butter
1 egg yolk
1/4 cup + 2 T of buttermilk
3/4 cup chunks of chocolate
Egg wash:
1 none egg
1 tablespoon water
Preheat oven to 425˚ and cover a sheet tray in parchment paper (or, buy a reusable silpat mat!).
In a large bowl, sift together all the dry ingredients. Cut in butter (using pastry blender, two knives, or my favorite-your hands) until butter is in little pea size pieces. In a smaller bowl, whisk together egg yolk and butter milk and then stir into dry ingredients until dough pulls together. Fold in chocolate chip chunks and roll out onto a floured surface.
Whisk together the egg and water, set aside. Pat dough into a square and cut into four squares (for large scones) or if you don't want mega scones, try cutting the dough into 6-8 pieces.) Place on the sheet tray and brush egg wash over scones (this will give a nice golden color.) Place tray in oven and bake for 12-15 minutes or until golden.