I have to be honest and say I was a little skeptical about these.
I mean, I love sweet potatoes but eating the skin?  Never once while eating a baked sweet potato did I consider eating the skin.  It just looked soggy and unappetizing so I just let it be.
Until now.
There are few times when I make something that I want to keep eating and eating- these skins were it.  I made these with slightly spicier peppers and colby jack cheese but really, you can use whatever you like.  The original version that I adapted this from was more the tradition skin with bacon and green onions (which if you have bacon lovers, they would probably appreciate that!)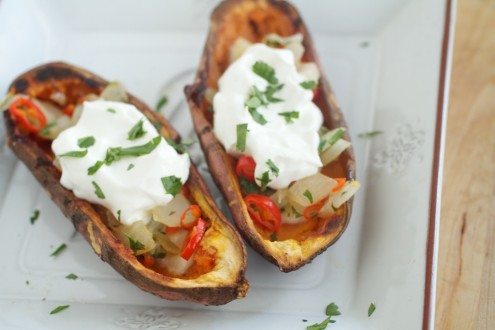 And yes, sweet potato skins are really no different than baked potato skins.  They crisp up perfectly and the extra flavor of the sweet potato adds so much!
Southwest Sweet Potato Skins
Ingredients
4 small sweet potatoes
1 medium onion
½ cup peppers
¼ cup cilantro
¼ cup tomatoes
1 tablespoon cilantro
1 tablespoon lime juice
1 cup Colby Jack Cheese
sour cream and extra cilantro for topping
1 teaspoon salt
1 tablespoon olive oil
Instructions
Pre-heat oven to 425˚, cut sweet potatoes in half and place cut side up on a baking tray. Bake until sweet potato has softened, about 25-30 minutes.
While the sweet potatoes bake, heat ½ tablespoon of olive oil in a skillet and add diced onions and peppers. Let saute until onions become translucent. Stir in tomatoes, cilantro, and lime juice an continue to cook until mixture is heated through, set aside until skins are done.
Once sweet potatoes are soft, scoop out the insides leaving ¼" of sweet potato in the skin. (saving the rest of the sweet potato for another project.) Turn skins upside down, brush with remaining olive oil, and sprinkle with salt. Bake for 10 minutes, flip, and bake for another 10 minutes- skin should be crispy. Sprinkle cheese in the insides of the skins and return to the oven to bake for another 4-5 minutes until cheese has melted. Remove and top with onion mixture and sour cream (avocado would also go great here!)