I feel like I have been very forward on the blog about my love and wanting to move to Colorado.  Right after college I had a plan: move to Colorado and attend culinary school.  I just got out of school so I didn't want a full culinary school so I started looking into the Culinary School of the Rockies.  That's where this story begins:
I was searching the internet for recipes (I was attempting to make biscuits without  having any butter), I stumbled upon a recipe for cheesy beer scones.  Along with the recipe there was a story about the Culinary School of the Rockies.
If you didn't know, I have my own CSR story from about two years ago.  Don't get me wrong- this is a great culinary school that I really considered going to (I just couldn't figure out the funding to get me to Boulder and I met a boy.)  However, I did go visit this the school during a cake decorating day- I was seriously smitten.  I was surrounded by cakes, frosting, and people as excited as I was to be decorating cakes and that sensation was the last thing I remember.  I passed out. Like, really passed out.  I woke up wondering how in the hell I got to Colorado and why I was standing in a kitchen ( I was pretty sure I was in a crazy dream…)  I was so freakin' embarrassed because 1. I have never passed out in my life, 2. I'm pretty sure it's because I ate only fruit for breakfast(I know better than that!)  So yeah, that is my Culinary school experience, I passed out.
So long story sort of short, I was really happy to stumble upon a recipe from the school.  These biscuits are really simple and delicious.   Great for when some reason you have no butter in your house (I know, I couldn't imagine such a scenario either until it happened to me….)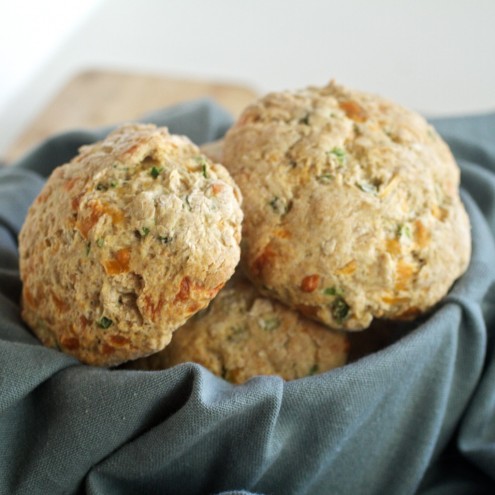 Who knows, maybe one day I will end up back out in Colorado, attending a culinary school (I pretty sure my life job is going to be "student".)
Ingredients
1½ cup unbleached all purpose flour
1¼ cup whole wheat flour
1 tablespoon natural sugar
1 tablespoon baking powder
½ cup jalapenos
1 cup cheddar cheese
¾ cup ale
2 none eggs
1 teaspoon salt
1 tablespoon sunflower oil
Instructions
Pre-heat oven to 425˚.
In a medium bowl combine all the dry ingredients and stir together. In another bowl combine the ale, eggs, and sunflower oil and pour into dry ingredients. Mix until dough comes together ( if your dough is too dry, add a little ale.)
Roll out onto a floured surface and shape into two circles and slice each circle into six slices (as if you were cutting a pizza.) At this point you can place on a baking tray covered in parchment paper (I have a thing for round biscuits so I patted each triangle into a circle.)
Bake for for 13-15 until biscuits are golden and baked through.