When I realized on Tuesday that my week would consist of two free days, I told myself to use that time to get a ahead on homework.
While I did do some (and by some I mean I attempted to work on homework), I ended up in the kitchen far more than I probably should have.  Yet, it felt nice to have days when I could catch up on recipes I wanted to try that I don't always have the time to try other days.  I have really gotten out of the habit of baking bread because most days I am never in the house for long enough periods of time to see the whole process through.  Thank goodness for snow days!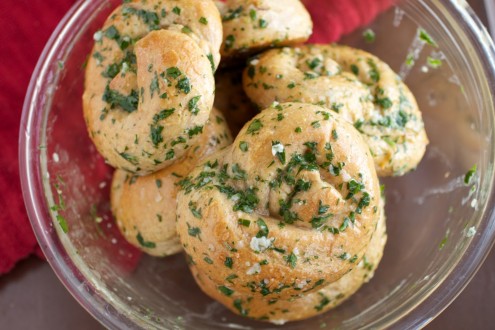 This recipe for Garlic Knots came from one of my favorite food blogger(s)- White on Rice Couple.  Their recipes are always delicious, their photography is always inspirational, and their videos are just amazing.
These rolls are the perfect amount of softness, garlicky-ness, and carb goodness.  These are part of my obsession for having bread with a nice warm bowl of soup (and this is defiantly soup weather!)  Need a carb fix?  Make these knots– you won't be disappointed!
(One side note- I got a little heavy handed with the fresh parsley but that didn't make one bit of difference!)