There are days when I stand in my kitchen and just stare at my refrigerator, contemplating for what seems like forever what I want to eat for breakfast.  Sunday was probably the longest.  I knew I wanted to actually make something because it was Sunday and I had the time.  Yet, I didn't want some sweet (no pancakes or waffles) and I wasn't really in the mood for anything egg-y.  I wanted something savory.
This was hard.  Really hard.
I scoured all of my favorite blogs for inspiration and nothing really called to me (this molasses bread from Joy the Baker kind of did but I had scone texture on the brain.)  Finally, I hit Baked Bree's website (one to never disappoint) and came across the soda bread.  While traditional Irish Soda Bread has caraway, I still had savory on the brain and after raiding my kitchen I decided on Feta and Sun-dried tomatoes.
Lathered with a little butter, this bread was delicious for breakfast but also has worked out well with soups and salads!  I love when you can throw together a recipe with ingredients in your house and have it come out delicious (and rather quick!)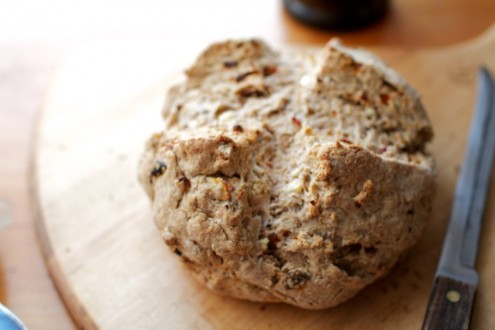 Feta and Sun-Dried Tomato Soda Bread
Ingredients
¾ cup unbleached all purpose flour
1 cup whole wheat flour
½ teaspoon Baking Soda
¾ teaspoon salt
2 tablespoon butter
1 egg
¾ cup buttermilk
1 cup feta
⅓ cup sun-dried tomatoes
Instructions
Pre-heat oven to 375˚.
In a large bowl combine all the drive ingredients. Using your hands (or a pastry blender), cut butter into dry ingredients. Stir in eggs and butter milk. Mixture will be slightly sticky (if you feel it is too sticky- add 1 to 2 tablespoons of all purpose flour.)
In a small bowl combine 2 tablespoons of flour, feta, and sun-dried tomatoes. Transfer to dough and mix until feta and sun-dried tomatoes are even throughout the dough. Turn dough out onto a baking sheet covered with parchment paper and knead into a round loaf. Cut and X in the top of the loaf and bake for 45-50 minutes or until a toothpick comes out clean.