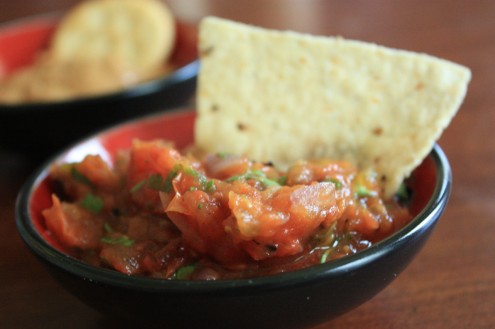 Author: Erin Alderson
12-14 whole roma tomatoes halved and seeded
2 whole garlic cloves peeled
1 whole jalapeno peppers halved and seeded
2 whole onions, quartered
½ cup cilantro
1 tablespoon Lemon Juice
Roast the tomatoes, garlic, jalapeno, and onions in 500˚ oven for 45 min (the first time you do this check sooner.) My mother likes her tomatoes dark. I let mine bake for about 30 minutes. I also used foil so I wouldn't have to scrub the pan later.
After the tomato mixture cools, place tomatoes, cilantro, and lemon juice in a food processor and pulse to desired consistency
I also opted to add half a chipotle pepper in adobo sauce to add a little spicy/smokey flavor.