Sometimes I get non-musical reminders of why I love my job (and more specifically my students.)
At the college, they have a garden house.  In this house, a few students live and eat only what they can grow (with obvious things like flour and staples thrown in.)  I really wish my college would have had something like this (but I'm not sure even if they did I would have lived there- I wasn't the most health-wise in college.) Last week one of my students asked if I liked radishes and I said of course.  Next thing I knew he brought me a box full of cabbage, basil, and enough radishes to last me a month (I shared with my mother.)
I was floored, really.  How awesome is it to get fresh produce from one of your students?  (Sure beats a store-bought apple!)
This salad used some of the cabbage and basil I was given (as you can see from the first picture, I have a lot of basil and even more cabbage!)  I found a recipe from Heidi's cookbook and loosely based this recipe on that.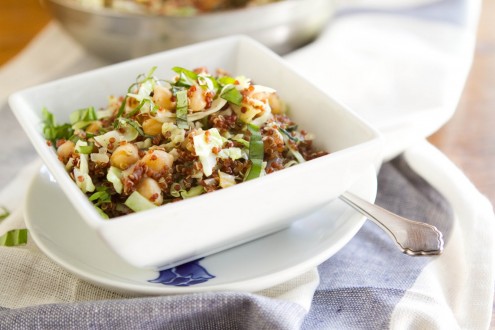 This recipe is great hot or cold (and makes for a great, extremely nutritious lunch at work!)
Quinoa, Cabbage, and Garbanzo Beans
Recipe type:
Vegetarian Main Course
Prep time:
Cook time:
Total time:
Ingredients
½ cup quinoa, rinsed
1 cup water
2 tablespoons olive oil
½ cup diced red potatoes (skin on)
1 small onion, minced
1 clove garlic, minced
½ cup garbanzo beans (drained and rinsed if using from can)
2 tablespoons fresh basil, julienned.
2 cups cabbage, julienned
salt and pepper
Instructions
In a small pot, bring quinoa and water to a boil. Cover, reduce to a simmer, and cook until water is absorbed (12-15 minutes.)
Heat olive oil over medium low heat. Add in diced potatoes and let cook until slightly brown (you will need to continue to scrape as potatoes cook.) Stir in onions and garlic, continuing to cook until onions are cooked are slightly translucent. Stir in garbanzo beans and cook for another 2-3 minutes.
Finally, stir in cabbage and basil. Let cook until cabbage has wilted. Add in quinoa and taste. Use salt and pepper according to your taste. Great eaten cold or hot!