I saw spring yesterday and I would like it to come where I live.
About half way through my drive to St. Louis, I started noticing trees with baby leaves all over and trees covered with flowers.  At first I didn't really think much of it until I realized, we didn't any of that yet.
Spring would be nice, please.
I love spring flowers.  Actually, I love flowers of all types and when I saw a Hydrangea covered cake and I knew I had to make something similar.  (I wanted to make the actual cake but I didn't need an entire cake sitting around my house.)
So, I made cupcakes.  The flowers don't look quite the same but I was having a fight with the tip. Still, I love the idea of flowers all over the top of the cupcakes.  Gives something different that just an average frosting swirl!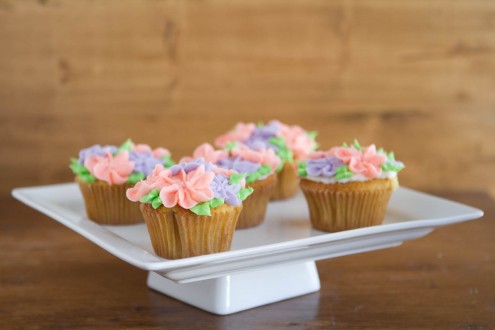 Want to try?  Hop over to I am Baker for a tutorial (and if you haven't checked out her site, she has sooooo many amazing decorating ideas!)
Short post for today!  More traveling and playing for three more school!