I am not an expert on shoes.  In fact, if I had my way, I would never wear shoes- I hate them.  I am the girl that can be seen wearing flip flops well into fall, I sleep with my feet outside the covers on the bed, and I never wear shoes in the house.
About a year ago, one of my friends stopped by the house and the first thing I noticed were his shoes.  To me, they looked like water waders with toe slots but once I found out they were shoes, I wanted a pair.
To further clarify my hate for shoes, I hate most of all tennis shoes.  To me they always seemed bulky and awkward.  For most of my junior high and high school time I wore one pair of tennis shoes and they were actually my track shoes from 7th grade with the spikes removed.  Granted, when I decided to start exercising I bought a real pair of tennis shoes but nevertheless, I still hated them.
Over the past few months I have read countless fitness blogs that have reviewed and offered advice on the Vibram Five Finger shoes and for those months, I sat drooling.  I still wanted a pair and once I realized I could walk/run in these shoes- I was hooked.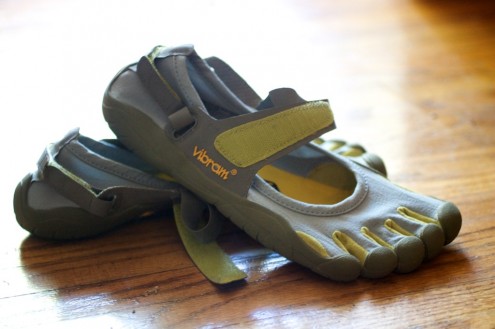 So, I ordered my first pair last week- the sprints.  I slipped them on my feet and I could barely tell I was wearing a shoe so much in fact, I didn't want to take them off.  Yeah, I was wearing shoes in the house.  I had fallen in love. I wanted to go everywhere in these!
Fast forward to this morning.  Do you ever do something that you know perfectly well you shouldn't do but you do it any way just to see?  I knew from all the reading I did about these shoes that your foot needs time to adjust to walking/running in these shoes.  I wore them on a four mile walk this morning while walking my dog- a slight mistake.
Don't get me wrong, I still love these shoes and look forward to getting my feet adjusted but take everyone's advice, adjust your feet slowly.  My heal and my pinky toes hurt just a little.  Now, I'm assuming my pinky toe hurts just for the shear fact I have crammed my foot into countless pairs of high heals that my pinky toe feels the need to be close the other toe.  As for the heal, this is really my only major problem but when you think about the difference between a tennis shoe and these shoes, it all makes sense.
Hopefully if my asthma settles down I can start to run in these!  I'll let you know how that goes!
Check out (never home)maker and The edible perceptive for some great opinions and reviews!