Do you ever have those days that everything just seems to being going great until you forget one thing?
That was me today.  I was running late to the farm this morning because I got caught up in designing another website (we are currently trying to get a website up for a cute local cafe but have had trouble finding time to actually sit down and do it!)  So, today was going to be that day.  I came up with such a great idea and got started on it only to rush out the door to the farm- I didn't even take my camera.
To be honest, this post wasn't even going to happen (until I saw all the gorgeous produce I got!)
So I got home, had perfect lighting for my photos, made an amazing lunch, and sat back down to crack out the rest of the design.  I got to a good stopping point where I wanted to add photos into the layout, clicked on my hard drive and to my surprise, the pinwheel of death popped up.  No… no, no…. no, no, no….
I rushed over to save the document (because stupid me didn't save it before) and managed to freeze that program too.  Before I knew it, I was pressing the power button to execute the kill along with all my hard work for the morning.  The only saving grace is that I managed to take a photo of the layout before it completely froze.  Moral of the story- save often.  In fact, compulsively save- you won't regret it.
Now onto the produce:
Peppers.  I think I went a little crazy this week with the peppers but there were so many shapes, sizes, and heats that I couldn't resist- I love peppers!
Cherry Tomatoes
Pole Beans
Okra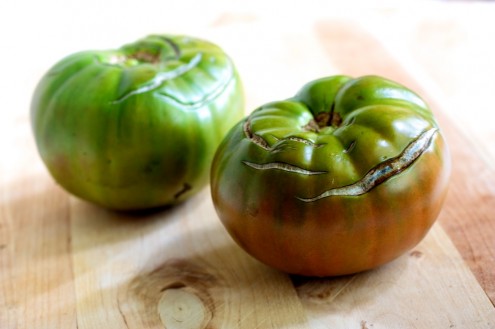 Heirloom tomatoes
More tomatoes (I feel a gazpacho coming on…)
More potatoes
I didn't bother going to the farmer's market because frankly, my refrigerator is brimming full of veggies which is the type of problem I love to have!