When Mike and I first moved in together, I remember my father giving him a warning, "you need to watch her, she'll go, go,go until she gets sick."  Yup, that's me in a nutshell- I never want to stop.  Relaxing, what's that?  All day t.v. watching?  Never heard of it (well, for the most part…)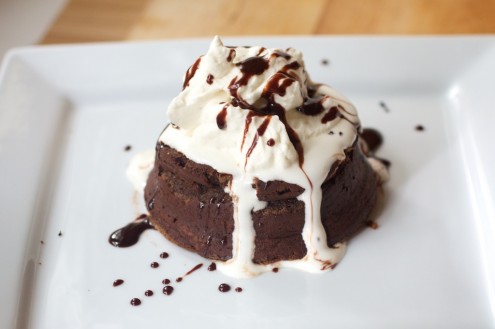 With the house to myself, I decided to take a couple days to do exactly that- relax (it also helped that we've had thunderstorms everyday.)  School starts in a month and once that happens, I won't know which way is up.
I spent time in the kitchen, I watched romantic-comedies like it was my job, I drank wine, and best of all, I made myself a chocolate cake.
Yeah, that's right.  I made myself a chocolate cake and I am not ashamed.
Not just any chocolate cake mind you.  I made a chocolate cake that was cake(y) on the outside and pure chocolate oozy goodness on the inside.
This cake should not be that easy to make.  I feel dangerous knowing how to make this cake- like I will start making excuses to make it.
If I do, please stop me (only after I've made it a couple times though…)
If nothing else will make you relax, I'm betting this cake will…
It did the trick for me.
Find the recipe here from Martha Stewart