Happy 4th of July!  I wanted to do a quick post today because I figured that if your like me, it is a day spent around food, friends, and great weather  (I am blessed to be in Chicago right now and about to head to the beach!)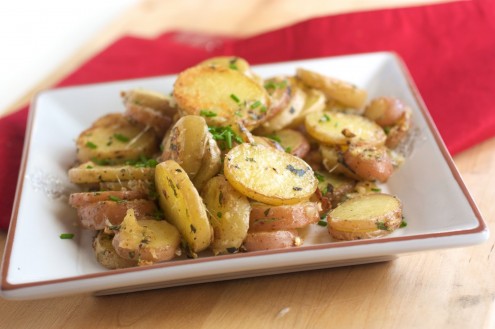 I know I have made mention of my weakness for potatoes.  I don't know why, but I really love simply cooked potatoes.  Give me a baked potato with a little butter and salt- I'm good to go.
This potatoes are a slight step above that (but still just as simple.)  I love pan frying red potatoes with a little parmesan and garlic.  I could honestly make a meal off these potatoes (I know most normal people would love this as a side though…)
Prep time:
Cook time:
Total time:
Ingredients
3-4 cup Red potatoes
1 tablespoon olive oil
2 clove garlic
1 tablespoon oregano
½ cup Parmesan
2 tablespoon Fresh chives
Instructions
In a large skillet, heat oil over medium heat. Add in garlic and potatoes and saute until potatoes begin to soften, Sprinkle in cheese and oregano and continue to cook until potatoes begin to brown on both sides. Remove from heat and serve warm.
Related