I love going out to the farm every Saturday and picking my own produce.  It gives me pride and a sense of accomplishment.  This week though, thanks to the new medications I'm on for my lovely asthma flare, I felt like I drank 15 cups of coffee on an empty stomach  (remember this when I get to the blueberry section of this post.)
I finally got wise (and it only took me seven weeks!)  Every week I try and write down what I am getting and every week, I fail.  I either forget or it's raining.  So, this week I took a picture of the board (I feel like an idiot for not thinking of this sooner.)  So, if you have a question on variety or just curious what I get to choose from every week- click on the board.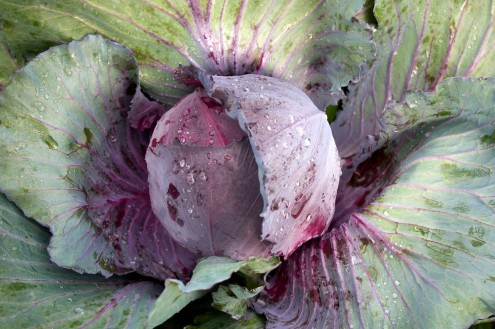 I have fallen in love with cabbage. Strange, I know.  Who loves cabbage?  Well, apparently I do and I'm not ashamed.  Isn't this head just absolutely gorgeous?
More broccoli this week (for some reason right now, I'm still excited about that cabbage!)
We could cut flowers (I choose to take photos instead- except I did cut zinnias- I love zinnias)
Remember about feel jittery?  Blueberry picking may have been the hardest thing all day.  Have you ever picked blueberries?  You pick and pick, yet never seem to get anywhere.  This is me today: "blueberry, blueberry, blueberry, Oh what's that over there, blueberry, blueberry, blueberry, Oh what's that over there, blueberry, blueberry, blueberry, Oh what's that over there"
Okay, I think you get the idea.  I kept getting so distracted that I took twice as long to pick these.  I just had to have them though.  So my warning, never try and pick blueberries when you don't have an attention span- it just doesn't work.
Garlic (also pretty exciting)
Tomatoes
Green Beans
Finally, red potatoes.  These make me just as excited as the cabbage does.  I love potatoes.  Actually, I think I love potatoes more so than I love cabbage.