If you are an avid reader of this blog, you know that I try and do my best to give you healthy recipes everyone will enjoy.  However, when it comes to some baked goods, my philosophy is if you are going to indulge, you might as well indulge.   I state, this really isn't that healthy of a recipe.  Don't let the blueberries fool you..
When I make treats for other people, I try and make them as tasty as I can (while still using quality ingredients.)  See, my beloved music department at school is surrounded by high school students for a week of summer music camp.  I could not help out because of my class schedule so I figured the next best thing- make them treats.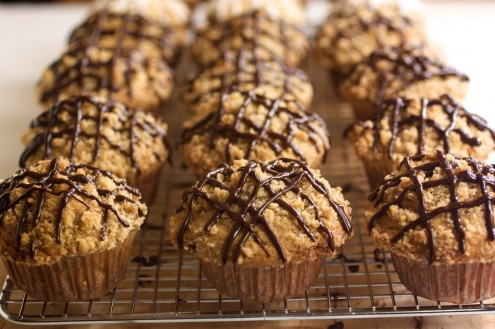 This is pretty much my go-to muffin recipe when I make treats.  The sour cream makes these muffins so incredibly moist and the fact that you can throw pretty much any extra thing into these muffins is wonderful.  So, for the camp staff I made blueberry (traditional) and Chocolate chip espresso (I figured they could use the little kick from the espresso.)
There is just something about muffins that warms the soul, don't you agree?
Ingredients
4 cup all purpose flour
½ cup sugar
½ cup brown sugar
1 teaspoon salt
1 teaspoon baking soda
1 teaspoon baking powder
4 none eggs
1¾ cup sour cream
¼ cup heavy cream
1 cup oil
2 teaspoon vanilla or almond extract
3-4 cup mixing ingredient, ie fruit, chocolate chips, etc
Topping:
¼ cup sugar
¼ cup brown sugar
1 cup flour
5 tablespoon butter
Instructions
Pre-heat oven to 400˚ and prepare muffin tins (I did this in two batches, one dozen in each batch.)
In a large bowl, combine dry ingredients for the muffin (the topping will come later) and stir so everything is evenly distributed. In a separate bowl, combine all the liquid ingredients (including sour cream) and whisk until everything is well combined. Pour over dry ingredients and stir until barely combined. Over mixing will result in a poor quality muffin- you still want lumps in your batter.
At this point, you can mix in whatever you choose. I divided the batter in half and added 2 cups of blueberries to one half and to the other half, I added 1½ cups of chocolate chips and 2 tablespoons of espresso powder dissolved in about 2 tablespoons of water. Scoop (I used an ice cream scoop) so that each muffin is a little over ⅔ full.
To make topping, combine the sugars and flour whisking to combine. Cut in butter using forks or your fingers until the butter is in small pieces and worked into the dry ingredients. Sprinkle liberally over each muffin.
Bake for 20-25 minutes until muffin just springs back when pressed down.