I simply adore crepes.
Crepes are amazingly easy to make and  yet are quite versatile.  Crepes can be used for any meal- savory or sweet.  I was first introduced to the idea a crepes through dessert crepes lavished with ice cream, syrups, fruits, and nuts.  These make my mouth water.
However, after watching an abundance of food shows, I realized that a crepe can be used for so much more.  For example: in place of pasta in this manicotti dish.
First the crepes are made.  They can be left plain or in the case of the manicotti, I threw in some garlic and oregano.  You can easily freeze extra crepes or even make the crepes up for this dish ahead of time.
Spoon some filling (in this case ricotta cheese and veggies) into the middle and roll.
Squeeze all the crepe manicotti into a pan (there is no need to be pretty, the cheese and marinara cover everything!)
See?  No need for prettiness! '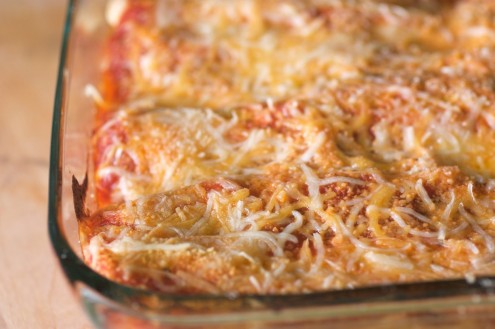 Bake for about 30 minutes and voila-la: a cheesy manicotti dish.  Could this get any easier?
Prep time:
Cook time:
Total time:
Ingredients
Crepe Batter:
½ cup unbleached all purpose flour
½ cup wheat flour
2 eggs
1 cup milk
2 teaspoon each: oregano and garlic powder
2 tablespoon melted butter
Filling:
1 cup ricotta cheese
¼ cup garlic scapes
¼ cup diced tomato
¼ cup mozzarella cheese
2 tablespoon egg whites
divider Everything else
2 cup marinara
1 cup mozzarella cheese
¼ cup Parmesan
Instructions
Spray a 9×9 pan, spread ½ cup of marinara in the bottom of the pan, and preheat oven to 350.
Combine all crepe batter ingredients in a bowl and combine until smooth. (This recipe only uses 8 crepes and the crepe batter yields 10-12 so I made a few plain ones (*to freeze) and added in the oregano/garlic after that.)
Heat 8″ skillet, spray with oil, and place a scant ¼ cup of batter in pan. Tilt the pan so that the batter covers the entire pan and cook for about 30 seconds. Flip and cook for another 15 seconds. Place done crepes on a piece of parchment paper (be sure not to fully stack crepes.)
Once crepes are done, combine filing ingredients in a bowl. Scoop a scant fourth of a cup of filling into the front of crepe and roll. Repeat with remaining filling. (I got seven crepes and squeezed them into the pan- you may get more and less depending on how much filling you put in each crepe.)
Once filled crepes are in the pan, spread the rest of the marinara over the crepes- makings sure each crepe is covered. Sprinkle with cheese and bake for 30-35 minutes until cheese on top is slightly browned and manicotti are bubbling.
*To freeze extra crepes for future use, place each crepe on top of a square of parchment paper and then seal in a plastic bag. If the crepes stick together, there is no getting them apart…