Peanut butter + Cheesecake + Brownie = disappeared
I baked these, took photos, and turned my back for one day and the next time I went looking for these, they were gone.  Clearly putting three of Mike's favorite things into one portable snack was a bad idea.
I at least got a couple bites.
Maybe next time I should try a peanut butter cheesecake with brownie bites.  I think then that may be a little too rich to disappear over night.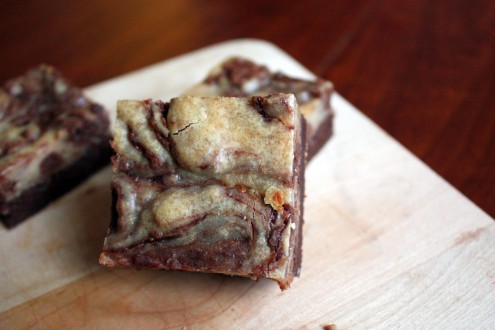 Peanut butter Cheesecake Brownies
Recipe type:
Cookies/Brownies
Ingredients
4 ounce cream cheese
⅓ cup peanut butter
⅛ cup sugar
1 whole egg yolk
1 tablespoon milk
½ cup butter
1 cup sugar
1 whole egg
½ teaspoon baking powder
¼ cup flour
½ teaspoon vanilla
¼ teaspoon salt
⅓ cup cocoa powder
Instructions
Preheat oven to 350˚.
In a medium size bowl (or bowl of a stand mixer) beat sugar and cream cheese together until softened and blended. Add peanut butter and continue to beat. Once peanut butter is incorporated, beat in egg and milk until cheesecake is smooth, set aside.
In a separate bowl, mix sugar and melted butter together. Add egg and vanilla extract- continue to mix until combined. Combine dry ingredients in a separate bowl and add to wet ingredients, mixing until all ingredients are combined.
Prepare and 8×8 pan by spraying lightly with cooking oil (or rub butter around pan) Add about a ⅛ cup of flour and shake until pan is covered. Smooth ⅔ of brownie batter in the bottom of the pan. Add cheesecake and drop remaining brownie on top. Using a knife, swirl brownie batter into cheesecake.
Bake for 25-30 minutes until brownies begin to pull away from side or knife is inserted and comes out clean.