The first week of the new year is over.  I didn't really set resolutions but I did set goals of living an overall healthier lifestyle and today I decided to review my check list:
Eat at home more often (check!)
Workout (double check- gym and I got my butt kicked by Wii yoga!)
Lower my sugar intake (….     silence     ……)
I was doing so well until. (flipping through past post) well, cheesecake, challah, cookies… crap!  I think that may explain a little of my weight still remains without budging.  I think I know what this means: less baking more healthy cooking.  The other realization I made is that with I have let my protein intake slack.  Being vegetarian, I try and eat a lot of beans, eggs, and peanut butter but sometimes…
Healthy dinner idea #1: Veggie quiche
Dinner during the winter for us often consist of heavy and rich foods (we eat a lot of pasta) and sometimes a light dinner is just what we need.  This quiche was perfect filled with roasted red peppers, onions, and broccoli (but really any veggie can be added.)  I often forget that eggs make a fantastic dinner (plus I get my protein!) I really wanted to use potatoes and a bottom layer for the crust but unfortunately compromise got the best of me (Mike really doesn't care for potatoes) so I went with a simple olive oil crust (not my favorite but a slightly lighter crust.)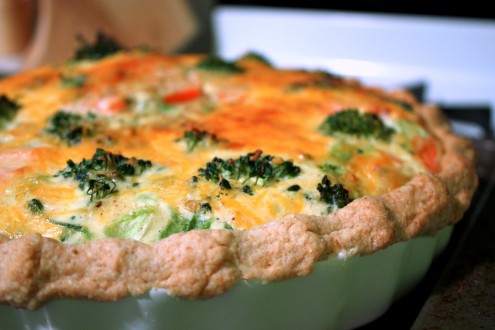 Ingredients
Crust:
¾ cup Colby jack (split ½ cup and ¼ cup)
1 cup whole wheat flour
1 teaspoon salt
3 tablespoon fresh dill
¼ cup olive oil
¼ cup water (as needed)
Filling:
½ cup green onions, diced
1 cup broccoli, finely chopped
½ cup roasted red peppers, diced
5 whole eggs (or 3 + ⅓ cup egg whites)
2 cup skim milk
1 teaspoon Tabasco
2 teaspoon pepper
1 teaspoon oregano
¾ cup cheddar (split ½ cup and ¼ cup)
Instructions
Preheat oven to 350˚
To make crust, combine dry ingredients in food processor and pulse to blend. Add olive oil and 2 tablespoons of water and turn food processor on. Add more water until dough begins to gather in small clumps. Scoop out and clump dough into a ball. On a well floured surface, roll out to a circle of about 12 inches. Place in quiche pan, prick the bottom of the crust with fork, and bake crust for 10 minutes.
While crust is baking, diced vegetables and set aside.
In a medium size bowl whisk eggs, milk, Tabasco, pepper, and oregano.
Once crust is done, layer veggies on the bottom, top with ½ cup of each kind of cheese, and pour egg mixture on top. Sprinkle remaining cheese over the top.
Bake quiche for 35-45 minutes until quiche puffs up and the egg mixture is set.
Notes
Perfect for breakfast, lunch, or dinner.